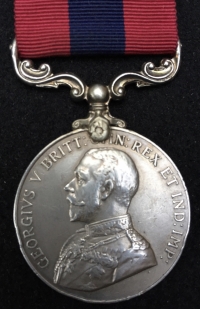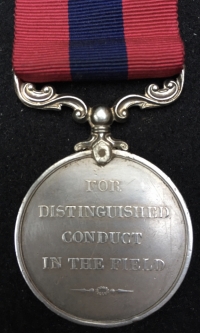 An Excellent

DISTINGUISHED CONDUCT MEDAL

(Single). 2nd Battle of Ypres 13th June 1916 To:

12755 Pte. GWILYN JENKINS, 7th Bn Somerset Light Infantry.

"Went out & rescued his wounded officer under heavy fire".

7th Bn Somerset Light Infantry. The unit was formed at Taunton in September 1914 as part of Kitchener 2 and came under command of 61st Brigade, 20th (Light) Division. Landed at Boulogne, 24 July 1915, Age 24.

[CITATION] London Gazette.27th July 1916

"For conspicuous gallantry during a raid on the enemy's trenches. After the return of the raiders he went out to look for an officer who was missing, and, finding him unconscious, carried him back under heavy fire. He has frequently volunteered for dangerous work."

[BIOGRAPHY]

Gwilyn Jenkins was born in Aberdare, Wales on 8th March 1891. Prior to enlistment he had been a coal face miner (Hewer). On the 1911 census he is shown as the eldest of the seven children. There were also the three other sons and the three daughters of Gomer & Rachel Jenkins of 22 Standard View. The siblings were: GWEN (19), THOMAS (16), CORDELIA (10), GOMER Jnr (8), CECILIA (7), & FREDERICK (2). The family address on the 1901 census was: 11 BRYNTEG TERRACE, YSTREAYFODWG, RHONDA.

[PRISONER OF WAR] 24th March 1918

Pte Gwilyn Jenkins later became a P.O.W. after being captured at St Simon on 24th March 1918 during the German Spring Offensive (Operation Michael). Red Cross records show he was held at the Gefangenlager at Chemnitz in Saxony. Clearly released from captivity at the end of the war he is then seen listed as a Class Z reservist from 24th March 1919. A war office daily casualty list confirms his arrival back in the U.K. on January 9th 1919 age 29. A really good 2nd Ypres DCM to VERY BRAVE WELSHMAN who served in a much collected regiment with an excellent citation. An award to an extraordinary Private soldier who later became a P.O.W. The award of the DCM is normally seen made to Sergeants and other NCO's, so this medal to a Private is very noteworthy. We've seen similar acts of valour under similar circumstances and with almost identical citations lead to the award of the Victoria Cross.

£1350

with part exchanges welcome.