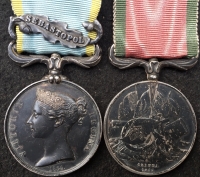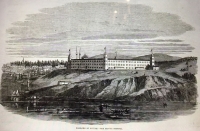 AN IMPORTANT CRIMEAN WAR

"MEDICAL OFFICER'S PAIR"

To:

ASSt SURGEON LAWRENCE HAWKINS.

Served with Florence Nightingale at Scutari Hospital, Sebastopol in the Crimean War.

CRIMEA MEDAL (Sebastopol) TURKISH CRIMEA MEDAL (British)* *Produced with a matching Crimea ribbon suspender which has been superbly & professionally inserted into the medal's edge.

[THE MEDALS]

Both medals were superbly named in an exactly matching style by the Hunt & Roskell engravers in the classic Block Capitals with Serifs Style.

ASSt SURGEON LAWRENCE HAWKINS

*He qualified as FRCS in 1856 and thus it's clear that he chose to have his medals named to reflect both his actually utilised 'Middle' Christian name and his qualified professional rank.

[BIOGRAPHY] 1830- 4th December 1887 (57)

Assistant Surgeon (Benjamin "Lawrence" Hawkins) always known as "Lawrence" Hawkins, to avoid confusion with his father, was born at Fort Pitt, Chatham No.1 In 1830 . He died in Woburn, Bedfordshire on 4th December 1887. He was the only Son of the well known Victorian Sculptor & Artist Benjamin Waterhouse Hawkins (1807-1894) who famously modelled the large concrete Dinosaurs at the Great London Exhibition of 1851 and who produced many other similar huge works both in Knowsley Park, Liverpool for Edward Stanley 13th Lord Derby and made similar enormous models in the United States of America. At just 14 years of age he was apprenticed to a medical man. At age 21 in 1851 he is seen closely involved via his father in arrangements at The Great Exhibition, for which efforts he received a gratuity & a silver medal from the late Prince Consort, He was presented to Queen Victoria while employed at the Great Exhibition of 1851 whom he met twice more during his career in connection to the repatriation of sick & wounded men from the Crimea. He was also employed by the British Museum in the role of classifying and arranging Bird Specimens. B.Lawrence Hawkins is then seen working as an assistant surgeon to the Royal Artillery in 1852 and served With the unit as a Dresser and Assistant Surgeon for most of the Crimean campaign at Scutari Hospital, Sebastopol with Florence Nightingale. He also served in the same role with the Highland Regiment in the Crimean War where he gained the nickname of "Our Wee Doctor", a title that apparently remained with him for the rest of his life. He also attended the son of the King of Sardinia during the Crimean War. He is seen by 1860 on the Medical Register as serving in the Army Hospital Corps. In the 1865 Medical Register he is recorded as: L.R.C.P. (Edinburgh) exam 1860, M.R.C.S. 1856 (Westminster & Grosvenor). District Union Medical Officer, Assistant Surgeon, 8th Bedfordshire Volunteer Rifles, Late Army Medical Services. He married Anna (nee Green) in 1862 at Eversholt Church. Anna was the daughter of a well known and highly esteemed solicitor of Woburn by whim he had seven children, four sons and three daughters, all of whom survived him. One of his daughters was called Mabel Hawkins, known as "Dame" in the family. Mabel won a silver medal at the Slade School of Art in London in 1871. Both medals are practically "As Struck" with a superb, matched & totally undisturbed ebony black time developed patina, confirming that BOTH medals are of .925 Sterling silver. A Rare Medical Pair & an Excellent Research Project for the medical medal collector or enthusiast. £1550 With Quality part-exchanges welcome.