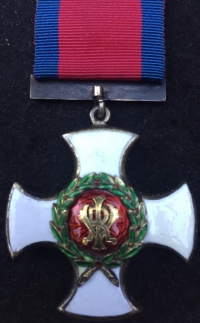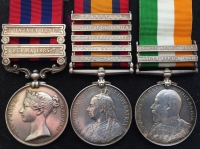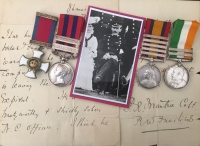 An Outstanding Senior Officer's "BOER WAR" Group of Four. DISTINGUISHED SERVICE ORDER (VR), Indian General Service Medal & Queen's & King's South Africa Medals. To:

Colonel P.R. MANTELL. D.S.O. Royal Welsh Fusileers.

(Wounded & Twice Mentioned in Dispatches.) With recipient picture.

DISTINGUISHED SERVICE ORDER (VR)

A Very Scarce & Original Victorian DSO. The condition of the order is pretty much par for the course and much better than many, and has the normal slight loss of green enamel from one or two wreath leaves and an area of clever cold white enamel restoration to the right hand reverse arm of the cross. VF+

INDIAN GENERAL SERVICE MEDAL 1854

(BURMA 1885-7) (HAZARA 1891) Officially Engraved in normal running script.

Lieutt P.R. Mantell. 1st Bn R.W. Fus.

.

QUEEN'S SOUTH AFRICA MEDAL (GVF)

(TRANSVAAL) (RELIEF OF LADYSMITH) (ORANGE FREE STATE) (TUGELA HEIGHTS) (CAPE COLONY)

Major, P.R. MANTELL. D.S.O. Welsh Fus.

(*Rank officially corrected from Capt, & D.S.O. post-nominal letters later officially added)

KING'S SOUTH AFRICA MEDAL (GVF)

(SOUTH AFRICA 1902) (SOUTH AFRICA 1901) Officially Engraved in the normal officers' style.

Major, P.R. MANTELL. D.S.O. Rl. Welsh Fus.

*NOTE:

It is interesting to observe that Lt/Col Mantell obviously asked for his rank to be updated from Captain to Major on his QSA and for his post-nominal title of D.S.O. to be 'added' and for it to be included in the normal engraving process on his KSA when it was later prepared. Looking at and comparing the style of the work on the two medals it becomes quite clear that the engraver who executed the normal work on the KSA was the same man, who at the same time, did the remedial work on the QSA.

[BIOGRAPHY] Patrick R. Mantell 1862-1936 (74)

Patrick Riners Mantell was born at Sialkote, India on 28th December 1862, the son of Lt/Col R.Mantell, late Indian Medical Service. Trained at Sandhurst Military College he was gazetted as a Lieutenant to the Leinster Regiment on 30th August 1883 with a transfer to the Royal Welsh Fusiliers on 20th October 1883. As a Lieutenant he served in the Burmese Expedition 1885-87 and in the Hazara Expedition 1891 for which he received the Indian General Service Medal with two clasps. Promoted Captain, 13th July 1892 and to Major, 6th October 1900. From 1899 to 1902 Major Mantell served in the South African War, being present at the Relief of Ladysmith, and the actions at Colenso, Tugela Heights, Pieter's Hill, Transvaal, Frederickstad, Cape Colony and Ruidam. He was Garrison Adjutant at Potchefstroom and Commandant at Frederickstad. He was slightly wounded in action and was twice mentioned in despatches, (LG 8th Feb & 10th Sept 1901). He was awarded the Queen's medal with five clasps and the King's medal with two claps and was created a Companion of the Distinguished Service Order (LG 27th September 1901) 'Patrick Riners Mantell, Major, Royal Welsh Fusiliers' "In recognition of services during the operations in South Africa" The insignia were presented by King Edward VII on 28th March 1903. He became Lt/Col on 21st August 1907, and Colonel on 30th August 1911. He retired on 5th June 1912. Colonel Mantell married, in 1904, Helen Campbell, daughter of Colonel G. Campbell-Ross.

[HOME SERVICE IN THE OFFICERS' RESERVE: WW1. 1914]

Interestingly, at the start of WW1 and at the age of 52, Colonel Mantell was still serving in the 'Reserve of Officers' in the capacity of Assistant Embarkation Commandant at Port No.3 (Avonmouth) He is not entitled to any awards for these efforts but the notes of his service are recorded on a standard BEF 1914 Medal Index Card of which we have a copy. The grouping includes a good file of interesting and early research paperwork, including his full service documents and an original hand written & signed civil employment character reference letter to a "Corporal Hughes" one of Mantell's N.C.O's who was leaving the regiment in 1894. Also, the original negative (with a sectional print) of the recipient and his wife in a group photograph with King Edward VII, Queen Alexandra and others at the DSO awards ceremony. An excellent & scarce Victorian DSO group that was clearly and very greatly cherished by the proud recipient. Overall VF+ / EF £4250 With part exchanges welcome.