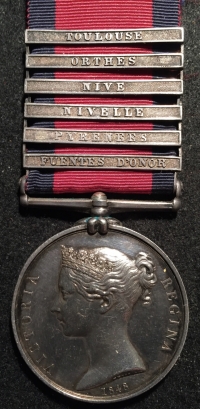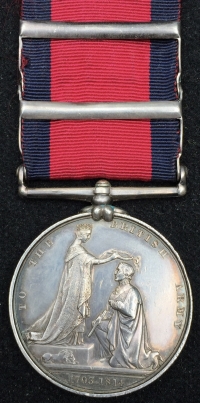 A SUPERB & RARE

"BLACK WATCH"

(6 Clasps) MILITARY GENERAL SERVICE MEDAL.
To:
Cpl. William McDonald. 42nd FOOT REGt.
(Also Fought as a Private at The Battle of Waterloo in Captain Murdoch McLaine's Company)
[BIOGRAPHY]
William McDonald was born in 1785 in the tiny ancient hamlet of CLYNE near DORNOCK in SUTHERLAND, SCOTLAND. He joined the colours in October 1804 at age 19 and served for 14 years & 79 days with an extra 2 years credited for his participation at Waterloo. After his many years of service, he like many men, ended his military career in Kilmainham Hospital in Ireland as a "worn out old soldier" unfit for further service with a discharge on 30th December 1818 at age 33. After fighting six battles during the Peninsula War between 1804 and 1814 and then being in combat at Waterloo in 1815 we feel that he was entitled to be worn out ! ....He was clearly a tough resilient and long lived individual as by the sheer fact that we have his MGS he was clearly alive to make his claim for the award in 1847...at the then good old age of 62.
[THE CLASPS]
TOULOUSE ORTHES NIVE NIVELLE PYRENEES FUENTES D'ONOR
An Excellent Medal to the 42nd Foot (Black Watch) Which is One of THE Most Desirable Scots Units in the British Army.
Comes with Kilmainham Hospital service discharge papers and the rolls for both this MGS & his Waterloo which was sold by Baldwin's in 1953. About EF & Totally Original. SOLD