A RARE & INTERESTING  
"OPERATION TITANIC"
Royal Air Force
'AIRCREW EUROPE STAR'
TRIO

To :
(BOMB AIMER)
&
D-DAY CASUALTY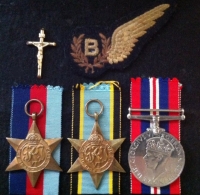 1580726. F/Sgt. ARTHUR RONALD WINCOTT.
149 Squadron R.A.F.
KILLED-IN-ACTION 
(Age 20)   
6th JUNE 1944.
Flight Sergeant A.R. Wincott was from Birmingham and flew as part of the crew of one of the two specialist 149 Squadron Sterling aircraft which were both lost to enemy fire on 6th JUNE 1944 while Dropping the famous 1/2 scale, 3 feet high,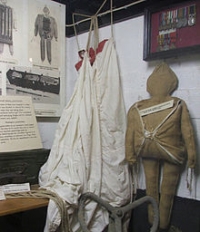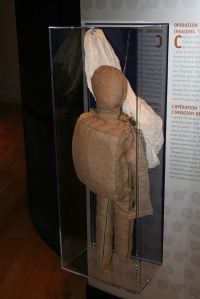 "RUPERT" DUMMY PARATROOPERS'
(and several very real SAS men), in an attempt to divert the Germans back away from the Normandy Landing Beaches.
Despite the loss of both these specialised 149 squadron aircraft and all but three of the total 18 crew members, the operation was a great success and one German Panzer commander is reported as sending a radio message (probably intercepted at Bletchley Park) saying that he was "cut off" by British Paratroopers !  This certainly saved untold numbers of lives a few hours later when the allied troops hit the beaches as many otherwise lethal German troops were simply just in the wrong place !
Having been fooled by 500 'rag doll' parachutists !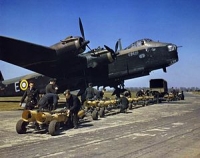 Their aircraft, a Sterling III, LK835. OJ-C. took off from R.A.F. Methwold at 22:28 on 5th June 1944 and is believed to have crashed near BAUDRE (Manche) 4km SSE of St-Lo. Four of the unusually large crew of nine are buried in Baudre Churchyard, the others including Arthur Wincott are commemorated on the Runnymede RAF Memorial to the missing.       

Medals practically Mint in Original Box with original ribbons
Box sent to his Father Mr.A.E.WINCOTT, 83 OLDBURY ROAD, BLACKHEATH,    BIRMINGHAM.
Son of Mr Albert E. and Mrs Edith Wincott.  

Includes Albert's original spare "B" wing and tiny gold crucifix. 

£795
NOTE: The Aircrew Europe Star in this group is now worth £300 on its own !!!... Thus, what we have here is a complete RAF CASUALTY group to a 6th June RAF D-Day flying casualty who was Killed-in-Action on a greatly famous mission ....all for just £795 !!!