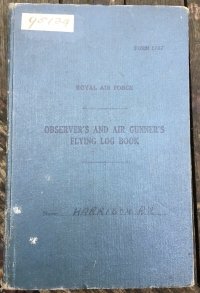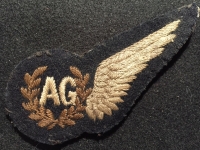 An Unusual and Emotive, 160 Squadron "Liberator" (Coastal Command & Far Eastern Command) Atlantic & Burma Star, WOP/AG "Casualty" Group of Five. With Flying Log Book. To:

943631. Sgt R.W. HARRISON RAF(VR)

KILLED IN ACTION , 24th AUGUST 1943. Age 26.

[THE MEDALS]

1939-45 Star Atlantic Star Burma Star Defence Medal War Medal

[WITH ORIGINAL FLYING LOG BOOK]

500, 404, 143 and 160 Squadrons, Royal Air Force. Covering Training and Operational Flying 1.11.1940 - 24.8.1943 With 324.10 hrs daytime flying & 51.25 hours at night.

[BIOGRAPHY ]

Ronald William Harrison was born in 1917 and was the Son of William Thomas Harrison, and of Florence Tresa Harrison, of 36 Fossdale Road, Millhouses, Sheffield. He was lost without trace in the Bay of Bengal, off the Andaman Islands, while on a maritime patrol flight in a Liberator. No trace of the aircraft or of he and his fellow crew members was ever found.

[THE FINAL SORTIE]

LIBERATOR MkIIIa FK239 with a crew of eight took off from RATMALANA at 03:00hrs on 24th August 1943 on a photo reconnaissance sortie over the Andaman Islands, but failed to return. The aircraft almost certainly broke up after a structural failure in flight during seriously bad weather when, probably in darkness, it encountered and entered a violently destructive Cu-Nim cloud formation with severe turbulence and lightning. The following day the squadron launched a search and potential rescue mission with several search aircraft led by Sqd/Ldr BRADY and his crew of seven in Liberator FL393, going out along the lost aircraft's track, but no trace of the aircraft or its crew was ever found. The lost crew were: F/O 'Jock' Campbell (Pilot) F/O Calder (Nav)

*Sgt R.W. Harrison (Wop/Ag)

W/O Winter Sgt Kidd Flt/Sgt Wilcox Sgt Bembridge Sgt Mc Donald All are commemorated on the Singapore Memorial, Column 425.

Complete with Sgt Harrison's original Air Gunners Wing Brevet and his Air Gunner-Observers Log Book which runs from 1st November 1940 - to 24th August 1943. The log shows a total of 375 hours flying time.

Also included is the original brown card mailing box of issue and the official condolence slip for "SGT R.W. HARRISON" sent to Mrs F.T. Harrison, his mother. An excellent and unusual Coastal & Far Eastern Command, Air Gunner casualty group with original flying log book and Ron's spare AG Wing Brevet. £895 with part exchanges welcome.