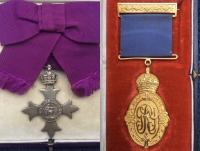 An Extremely Important, Rare & Desirable GOLD 1st Class KAISER-I-HIND Medal George V (1930)-Two Ounces of 18 Carat Gold- & Ladies O.B.E. (1919) With full issue & invitation documents. To: Miss FLORENCE JULIA HIBBERD. [THE MEDALS]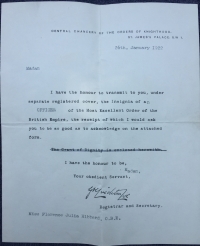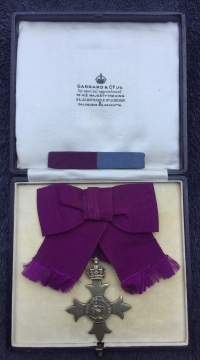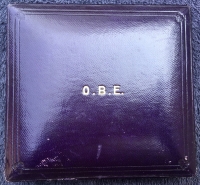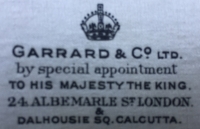 O.B.E. (Civil) London Gazette: 30th September 1919. (Sandes Soldiers' Home, Meerut) The O.B.E. comes with its official letter of issue from the Chancellery (26th January 1922).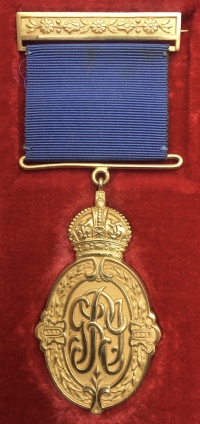 KAISER-I-HIND. 1st Class London Gazette: 1st January 1930 Lady Superintendent Supervisor."For Public Service in India" (Sandes Soldiers' Homes, Meerut, Rawalpindi & Upper Topa) This highly desirable and very seldom seen George V, 2nd type Kaiser-I-Hind 1st Class Gold medal was superbly struck in semi-frosted 18carat (.750) gold at a total weight of Two Ounces, including the top bar & pin. The current metal value at time of listing being £2151.00 [BIOGRAPHY] 1873-1954 (81) Julia Florence Hibberd was born in Edington, Wiltshire in 1873 and was baptised on March 12th by Samuel Littlewood B.D. Minister. She was the daughter of Tom & Elizabeth Julia Hibberd who were Wiltshire farmer. Miss Hibberd was the Chief Administrative Officer of the Elise Sandes Indian Army Soldiers' Homes where for many years she had overseen the care of young Indian Army servicemen who were provided with a homely place to live which for these young lads in their formative years was considered a great improvement upon normal life in Barracks. [VOYAGES FROM ENGLAND TO INDIA] During her several journeys to India she is seen on the following passenger lists.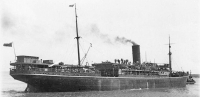 6th Oct 1922. P&0. SS KASHGAR London to Bombay...aged 49 (Home address: 16 Goldington Ave, Bedford)
April 1926. Ellerman Line .. SS CITY OF GENOA ..Calcutta ...aged 53 (Home address: 16 Goldington Ave, Bedford)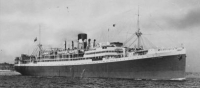 14th Feb 1927..Hall Line.. SS CITY OF PARIS ...Liverpool-Bombay. 53 (Home address: Northwood, Gerrards Cross) On the 1939 Register, Ms Hibberd is seen probably retired at age 65 living as a companion to a widowed friend Mrs Alice Hammond at 322 Madeira Avenue, East Worthing, Sussex. She is last recorded as having died on Sunday 13th June 1954 age 81 at an address in Easingwold, near Harrogate, in Yorkshire.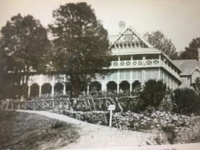 Elise Sandes was a wealthy Christian Philanthropist from Ireland who had been saddened when she saw young soldiers falling into problems with strong drink & other undesirable social practices and issues. Her homes started in Ireland but eventually widely expanded into England & also with particular emphasis on India prior to independence. Upon the declaration of Indian Independence all the homes were sadly closed by the new government as they were based on traditional Christian ethics. Florence Julia Hibberd was initially decorated in 1919 with an O.B.E. in recognition of her services to the Indian Military during the Great War. In 1930 after a further 21 years of clearly dedicated service in the same role she was recognised and further decorated with the greatly revered and important award of the The Kaiser-I-Hind Gold Medal all of which were authorised by the reigning monarch.
The Medal was presented to her by HRH Prince Arthur Duke of Connaught & Strathearn, who was the 3rd Son & 7th Child of Queen Victoria & Prince Albert of Saxe-Coburg and Gotha and the brother of King Edward VII.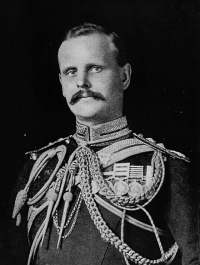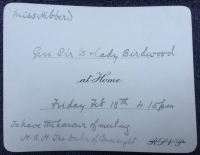 The presentation took place at the home of General Sir William & Lady Birdwood (Commander in Chief, Indian Army) at 4:15 pm on Friday February 18th 1930 at what would have been a very convivial afternoon meeting for tea and cake. In the case of the Kaiser-I-Hind medal it is accompanied by the excessively rare & original "At Home Invitation Card" sent to Miss Hibberd personally by General Sir William & Lady Birdwood: "To Have The Honour of Meeting HRH The Duke of Connaught". [NOTE] *Readers will notice that RSVP has been crossed out on this invitation card. A response was just not applicable in this case as etiquette dictates that when one is invited to an audience with a member of The Royal Family it is considered to be totally unthinkable not to attend.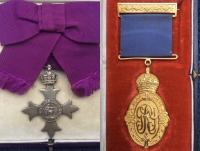 An Extremely Rare & Totally Magnificent Pair. Both medals are totally Mint State & Cased as Issued. £3995 (With quality part exchanges welcome)