A magnificent and rare Victorian
(SOUTH WALES BORDERERS)
Officers' Large Helmet Plate,
Circa,1883.
 MINT STATE & SUPERB.
One of the finest examples extant and a totally stunning item in Gilt Brass
with Silver Motto Banner and central Welsh Dragon device.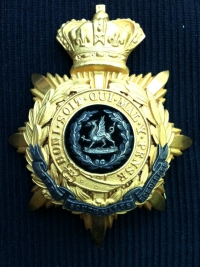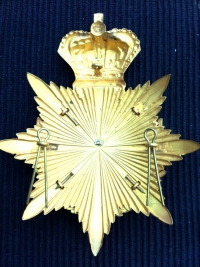 Fit for inclusion in the best of collections.
The S.W.B. are famous for their participation in the
actions at
Rorke's Drift and Islandlwana when they were were known as 1st & 2nd Battalions Warwickshire Regt. They became known as the South Wales Borderers after the Childers regimental reforms of 1883.
This is a sheer classic and "MUST HAVE" item for the serious SWB collector.
ONE ONLY

MINT STATE & TOTALLY "AS STRUCK"    
£775