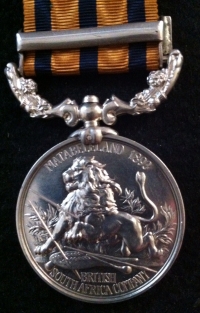 AN EXTRAORDINARY & RARE
"JAMESON RAIDER"

'BRITISH SOUTH AFRICA COMPANY' MEDAL(Matabeleland 1893 Reverse)"RHODESIA 1896 Clasp'To:Cpl, Captain, Inspector. L.L.BALLANTINE-DYKES. SALISBURY HORSE

(Chief of Matabeleland (BULAWAYO) Police)

This is just about the finest British South Africa Company Medal you could imagine. Not only is the medal 'Gem Mint State' and on it's original ribbon, but it's perhaps the most important medal of its type to surface in at least the past 25 years.
We have looked back over auction records from about 1995 and we have found three other recorded 'JAMESON RAIDERS' which have all been sold by DNW. Two in their 24th June 2009 sale (Lots 889 & 898) were the medal to Sgt Maj, St J.H. WAGSTAFFE and the pair to Mr L.H. BALDWIN.These medals finally hammered at £1700 & £3500 respectively, plus commission. (c,£2040 & £4200) The third medal to Cpl E.C. ADAMS (Lot 1298 of 26th June 2014) brought £3000 plus commission (c,£3400)[BIOGRAPHY]LAWSON LEIGH BALLANTINE-DYKES. Lawson Leigh Ballantine Dykes. J.P. was born into an old aristocratic family on 30th October 1864, at the family seat at Isel Hall, Cumberland, England. He was gazetted to be Lt in 3rd Bn Border Regt / 30th April 1886 (age 22) published in the London Gazette of 11th of May 1886.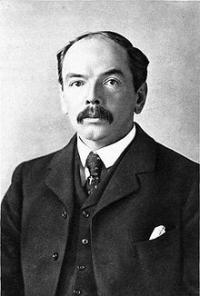 He Emigrated to Rhodesia in the early 1890's and joined 'The Salisbury Horse' in 1896 as a Corporal and later as an Inspector in the Mashonaland Mounted Police, and as the Commander of the JAMESON RAID "B" Troop, the then Captain L.L. Ballantine-Dykes took part in the infamous Jameson Raid (1895-96) and the Matabele Campaign (1896).
He retired as Chief of the Matabeleland Police
In his younger years he played cricket for Cumberland. And upon returning to England he served on the bench as a Justice of The Peace.Survived by his wife Mrs Ballantine-Dykes of The Red House, Keswick. He died age 81 on 29th September 1945 at Llangar, Crowthorne, Berkshire, England.

A QUITE EXCEPTIONAL & HISTORICALLY IMPORTANT MEDAL TO ONE OF THE ORIGINAL & MOST IMPORTANT RHODESIAN SETTLERS WHO WAS TRULY ONE OF THE ORIGINAL SONS OF RHODESIA.

SOLD SIR LEANDER STARR JAMESON