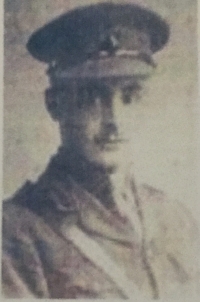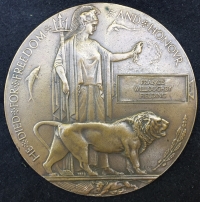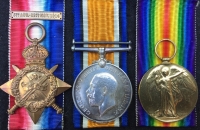 AN HISTORICALLY IMPORTANT & SERIOUSLY RARE

"FIRST DAY, BATTLE of THE SOMME"

1914 STAR & BAR TRIO "OFFICER CASUALTY" & PLAQUE. To:

1522 Cpl, 2/Lt F.W. FIELDING. "QUEEN's OXFORD HUSSARS" & 9th (County of London) Bn, London Rgt (Queen Victoria's Rifles)

KILLED-in-ACTION "GOMMERCOURT" 1st JULY 1916. Age 23.

SEE "NEW" SLIDE SHOW FEATURE BELOW Seldom does one see such an early group of this superb calibre.

[BIOGRAPHY]

Francis Willoughby Fielding was born on 8th October 1892, the son of auctioneer Harry Fielding and his wife Letitia E. Fielding, of Stoneleigh, Thame, Oxon. Francis grew up in Thame, Oxfordshire and was educated privately at Lord William's Grammar School & Taunton College. Prior to enlistment he was working as a motor car engineering draftsman at Coventry in the early years of the British motor trade....later to become Austin & Morris and BMC. Having been a pre-war member of the Warwickshire Yeomanry OTC he already had military experience as a Cadet 2nd Lt. He was called up on 4th August 1914 and his initial entrance into the Great War was on 20th September 1914 at the rank of Corporal. He then served as a motorcycle dispatch rider with The Queen's Own Oxford Hussars.

[WOUNDED IN ACTION]

He was wounded in November 1914 when an enemy shell exploded on the road where he was riding his motorcycle and was admitted to No.4 Cavalry Field Ambulance on 23rd November 1914. Then to No.2 Clearing Hospital Bailleul and onward to No.4 General Hospital Boulogne on 28th November. Then on 29th via the hospital ship St Andrew to the UK , with a landing at Southampton and onto the ambulance train on 30th. Oddly, where referring to his situation his medical papers give N.Y.D. (Not Yet Diagnosed) with an initial observation of Rheumatism ! ....as he had been wounded by a shell explosion we are not quite sure why ? He was gazetted as 2nd Lt in April 1915 and returned to France where he joined his new unit, the 9th London Regt.

[1st JULY 1916]

He was still serving with the 9th over a year later when at exactly 07:30am on the morning of Saturday 1st July 1916 he proudly strode into historical immortality as he bravely took his men over the top and was Killed-in-Action on the First Day of The Battle of The Somme during the famous diversionary attack at Gommercourt. Looking at the CWG statement of financial effects papers we see that he lost at least one fellow 2/Lt colleague on 1st July as 2/Lt C.P. Fleetwood of 9th Londons is also listed as Killed in Action.

LEST WE FORGET THE PRICE OF OUR INDEPENDENCE & FREEDOM

It's a poignant feature of this group that there was a clear lack of concern & a breakdown of efficiency by the army as 2Lt Fielding's brother had to write a fairly pointed letter to the war office on 9th December 1919 on behalf of his mother as she still had not received her "War Gratuity" three and a half years after her son's death in France. His medals were also late in their arrival and the brother had to claim them on behalf of his mother on 19th November 1929, which was a full seven years after the 'average' medals delivery dates in 1922. They were eventually received by her at Stoneleigh, Thame, Oxon. This exceptional group comes complete with extensive research, Territorial Force attestation papers & officers' file letter copies and other papers, and with all CWG copies. Also, copies of the superbly readable and handwritten unit's war diary for 1st July 1916. There are five pages which show the exact situation hour by hour on the ground at Gommercourt on the 1st July 1916. Francis' body was initially recovered from the battlefield as an unidentified officer, but later identified and and buried at GOMMECOURT BRITISH CEMETERY NO.2, HEBUTERNE. This is one of the finest First Day Casualty Groups you could ever wish to own and one of the finest we've ever been privileged to offer. The medals are in superlative condition. The 1914 Star & Clasp exhibit 100% full mint red and the star is a rare example of the seldom seen 'Proof Reverse' medal which displays those astonishing mirror like surfaces. This highly reflective star reverse variety is sometimes encountered on the 1914-15 stars to officers (and oddly to RN recipients ) but this is the first example I've ever seen on a 1914 Star. A very special medal. A 'Mint State' Officer's 1st July 1916 , 1914 Star & Bar Trio, ........with Plaque !!!! When we saw it we just had to buy it. When did you last see another one ? £3995 With part-exchanges welcome.