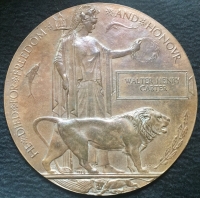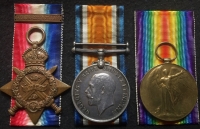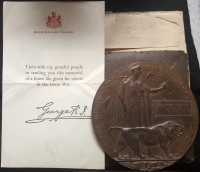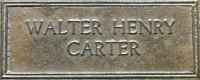 A RARE & GREATLY DESIRABLE "Old Contemptible's" 1914 Star & Bar Trio & Plaque. To:

9991. Pte W.H. CARTER 1st & 2nd DEVONSHIRE Regt.

KILLED-IN-ACTION SATURDAY 1st JULY 1916. "FIRST DAY of THE BATTLE OF THE SOMME"

[BIOGRAPHY of AN UNDERAGE SOLDIER !]

Walter Henry Carter was born in 1898 in Barnett and later lived in Whetstone, London. His mother Georgina Carter was living at Russell House in High Road, Whetstone.

With an enlistment at Stratford, Essex, he joined the British Army & 1st Bn DEVONS in March 1914 at the age of only 15. It's looking like the army turned a blind eye to his age as we were not at war at this time. But at the time of the declaration he was both well underage & also under trained.

Having only been in the army for five months he was clearly not ready to go into action with 1st battalion who arrived in Le Havre on 21st August. So, after just ten weeks further training and at some time between August & November 1914 he transferred to 2nd Bn. He finally arrived in France at Le Havre on 9th November 1914. He was thus serving in France in November 1914 at age 16. It was while fighting with 2nd Devons that he lost his life on 1st July 1916. He was still only just 18.

[1st JULY 1916, FIRST DAY of THE BATTLE OF THE SOMME]

On 1st July Walter and his comrades in the 2nd Devons were positioned in Mash Valley and just a few yards to the north of the Albert to La Boisselle road. His unit's targets were the German lines and their positions at Ovillers. As with the vast majority of the 1st of July men his position was tragic and he was almost certainly lost to the German machine guns in the first few minutes of the attack. On 1st July the 2nd Devon's lost 232 men killed and 199 wounded. Walter Carter was one of them. He has no known grave and is commemorated on The Theipval Memorial to the Missing.

[The 2nd Battalion The Devonshire Regiment in World War One]

August 1914 found the 2nd Devons in Egypt, where their first task was to protect the Suez Canal. Arriving at Southampton in October, they absorbed drafts of reservists before landing in France on 6th November. By mid-November they were at Messines (close to the 1st Devons) where, in two tours in the trenches near Neuve Chapelle, they suffered 20 casualties and lost another 70 men to sickness (mostly frostbite). In December they captured a German position known as the Moated Grange cost 128 casualties. They remained in this area until March 1915, when they lost heavily in an attack on the German lines on the 10th before next day repulsing a German counter-attack. Their losses in March totalled 284 men. An attack on Aubers Ridge in May 1915 cost another 250 casualties. Remaining in this sector until April 1916, they moved to the Somme to prepare for the offensive. On 1st July, the 2nd Devons attacked between Ovillers and La Boiselle, losing 232 killed and 199 wounded, many of whom fell to German machine guns in what they called Mash Valley. On 18th and 29th July at Cuinchy they repulsed two German attacks before being withdrawn to rebuild their shattered Battalion. The Medals are "MINT" with "MINT" original ribbons. The Plaque is also EF+ and comes with it's original King's letter, interior cartridge paper envelope and exterior card cover. So very very few of the casualties of 1st July 1916 were the original men of the regular standing army of 1914 most of whom had become casualties in 1914, 1915 & early 1916. This is therefore an exceptional, rarely encountered and complete "1st Day" 1914 Star and Bar with plaque assembly to an initially underage casualty soldier. Walter Carter was one of the youngest members of the "Contemptible Little Army". Being killed on this most pivotal of days and despite the loss of his remains, these factors and the survival of his medals have conspired to make this young lad immortal. His short life and the nature of his loss truly bring home and see to represent the true scale of the brutal and shocking losses of the First Day of the Battle of the Somme.

LEST WE FORGET.

(SOLD- EXPORT TO THE U.S,A).