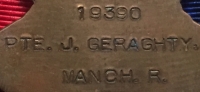 A HIGHLY DESIRABLE

"1st Day of The Somme" 1914-15 Star "MANCHESTER PALS" Casualty Trio.

To:

19390. Pte. J. GERAGHTY.(6th City Pals) 21st Bn MANCHESTER REGT / "D" Coy / 15th Plt.

KILLED IN ACTION 1st JULY 1916 at MAMETZ

.

[JOHN'S UNIT PHOTO]

. He's shown 'somewhere' on the picture which has a full list of names.

[BIOGRAPHY]

John GERAGHTY was born in Manchester and later lived at 12 Benson Street, Higher Broughton. He enlisted in Manchester. He arrived in France on 10th November 1915. At midnight on 30th June 1916 he and his unit moved forward from Bois des Tailles ready for the attack on MAMETZ where A, B, C, & D companies each fought at various times during the day in a controlled deployment. In the early afternoon, D company 21st reinforced the 22nd Manchesters and by 1:30 pm they had gained control of Danzig Alley. It was there that John fought and died on the afternoon of the 1st July at Queen's Nullah. John's body was never found. He has no known grave and is commemorated with eternal honour on the Thiepval memorial to the missing of the Somme. Pier & face 13a and 14c A Very Scarce 1st July 1916 Casualty trio to one of the most famous "Pals" regiments of all....and a 'must have' group for the serious Manchesters' collector. All medals are practically 'mint state" with original mint ribbons. With all available CGW papers in colour. A superb trio. £1450 with part exchanges welcome.