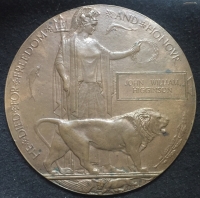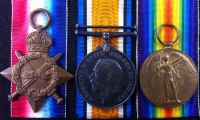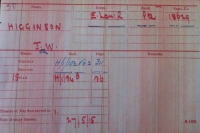 A GREATLY DESIRABLE

"1st DAY, BATTLE OF THE SOMME"

(1st July 1916, Redan Ridge, Beaumont Hamel, Casualty) 1914-15 Trio & Plaque. To:

18629. Pte JOHN WILLIAM HIGGINSON. 1st Bn EAST LANCASHIRE REGT.

KILLED IN ACTION 1st JULY 1916

[BIOGRAPHY]

John William HIGGINSON was born in 1883 in Clayton Le Moors, near Accrington, Lancashire. He was a cotton mill labourer living at 72 Sparth Road. He is seen on 21st December 1912 age 29 marrying Harriet Amelia Counsell age 23 a cotton winder of 31 Willow Street at the Parish Church. The two addresses are only a few hundred yards apart in Clayton Le Moore ( both addresses are still extant.) [TO FRANCE] John HIGGINSON arrived in France and joined 1st East Lancashire Regt on 27th May 1915. The parent unit had been in France since 22nd August 1914 and John was clearly part of the later 1915 reinforcements. [1st DAY OF THE SOMME, Saturday 1st July 1916] At 0730 hours on 1st July 1916 the British artillery lifted and the infantry, including the 1st and 11th East Lancashires, advanced in extended lines towards the German trenches. For a few moments there was silence, and then suddenly machine guns opened up from behind the largely unbroken German wire and cut down the attackers in massive swathes. The casualties were 19,240 men killed outright on the 1st July and a further 38,000 wounded. These were the worst casualties ever suffered by the British Army on a single day. [1st EAST LANCASHIRE REGT FORMING UP FOR THE ATTACK] On the far left of the British attack the 11th East Lancashires ( the famous 'Accrington Pals') assaulted the village of Serre, while a mile to their south the 1st Battalion East Lancashires ( the old 30th Foot) attacked at Redan Ridge which is just to the north of Beaumont Hamel. A small road leads north from Beaumont Hamel up to Redan Ridge, which is an area of high ground. The 4th Division attacked here on the 1st of July 1916, and suffered what the Official History calls 'disastrous losses'. Some soldiers did reach the German front line, and a few even reached the German support line, but so few that they were surrounded and killed or captured, with only two returning. Despite rapidly mounting casualties, the 1st & 11th East Lancashires moved steadily forward, as if on parade, until they melted away under the fire. Small parties of both battalions entered the German trenches, but they were never seen again.

[LOST WITHOUT TRACE]

As with so many thousands of our soldiers, John HIGGINSON was lost without trace and has no known grave. He was 33 years old.He is commemorated with eternal honour on the Theipval memorial. Medals are practically mint with their original ribbons. The plaque with it's original wax card case & Buckingham Palace letter (mint & unfolded) is also mint with some original red lustre.

An historically important & superb 1st Day Somme casualty trio & plaque assembly to a man who fought and died on the 1st July 1916 while fighting in what was perhaps the most historic battle in British history with one of Lancashire's most famous regiments.

A sheer classic which is clearly bound for the finest collection.

SOLD.