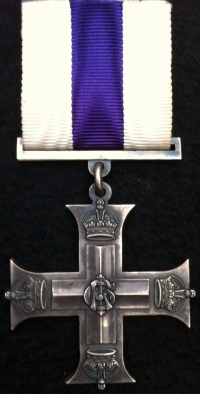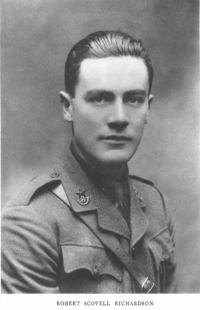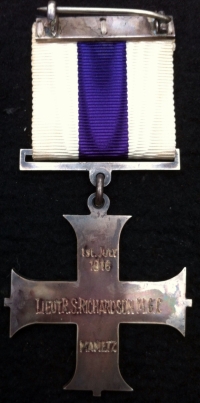 A MAGNIFICENT 1st DAY OF THE SOMME, MILITARY CROSS.

For Conspicuous Gallantry at MAMETZ on 1st July 1916

To:

2/Lt Robert S.Richardson. 91st Machine Gun Co. Machine Gun Corps.

(Formerly: 789 Private R.S. Richardson. ( Public School Bn,) Middlesex Regt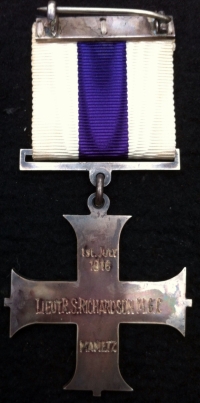 PRIVATE CONTEMPORARY ENGRAVING:

"1st JULY 1916LIEUT. R.S. RICHARDSON. M.G.C. MAMETZ"

Robert S. Richardson, entered France 11th March 1916 with 91st Machine Gun Company, 4th Army, XV Corps, 7th Division. (Somme). The unit was formed in England and joined 7th Division in France on 14th March 1916. Moved into No.7 Bn, MGC 1st April 1918.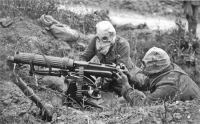 He won his immediate MILITARY CROSS FOR CONSPICUOUS GALLANTRY at MAMETZ on 1st July 1916 (1st Day, Battle of The Somme) The award was published in The London Gazette 25th July 1916 [CITATION] Temp.2nd Lt Robert Scovell Richardson 91st Machine Gun Company. Machine Gun Corps.

"For conspicuous gallantry, though twice buried by shell fire, he succeeded in rescuing five of his men, and bringing his gun into action in a captured enemy position, he was under heavy shell fire the whole time, later he did fine work clearing the position"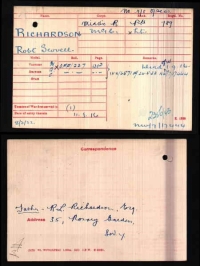 [BIOGRAPHY]

The eldest Son of Robert Lyman Richardson (a Merchant) and Mary Winifred Richardson, of 35, Rosary Gardens, South Kensington, London. Educated at Rugby School where he enrolled in 1907 he later went up to Pembroke College Cambridge where he played golf for the college in 1913 & 1914. He volunteered early in the war and entered The Public Schools Battalion, Middlesex Regiment as a private, and in November 1914 was commissioned from the ranks as a 2/Lt into the Scottish Rifles. He was appointed machine gun officer and instructor to the Middlesex Regiment with a transfer to the Machine Gun Corps in September 1915. He entered theatre on the Western front with 91st MGC on 11th March 1916.

He fought with great distinction at The Battle of The Somme, where at MAMETZ on 1st July 1916, he won a Military Cross. A report reads

"......when the one gun he was able to get through saved the situation in his special part of the attack". Robert further took part in the attack on HIGH WOOD later in July 1916.

[FATALLY WOUNDED] On 31st August 1916 he was fatally wounded by a shell before GINCHY while assisting to bandage a wounded man outside the trenches.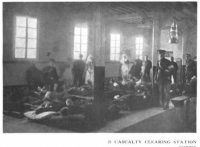 He was taken to No.21 casualty clearing station and died of his wounds the next day,1st September 1916. He was 23.
He is buried in La Neuville British Cemetery, Corbie. Robert was posthumously promoted to Lt on September 16th 1916 (London Gazette) His Grave Inscription Reads: "VIRTUTE ACQUIRITUR HONOS" ( Virtue Acquires Honour ) This is the motto on the Richardson family coat of arms.

R.I.P. Robert. 'YOUR FIGHT, NOT LOST, BUT WELL WON, WE SALUTE YOU'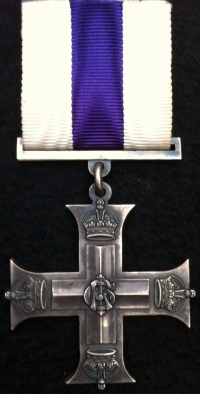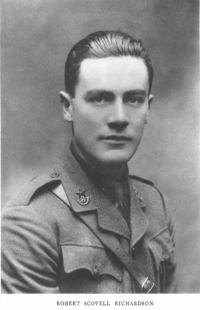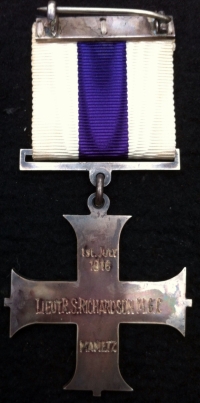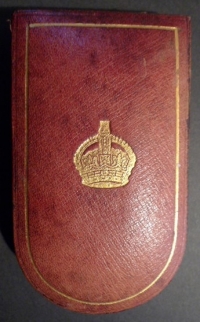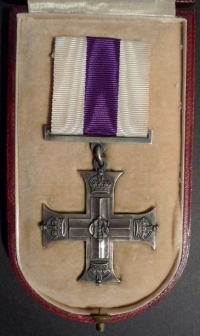 THE MILITARY CROSS IS EXTREMELY FINE ON ITS ORIGINAL RIBBON & PIN & IN ORIGINAL CASE. The hand applied 'chisel engraved' private naming is of the totally correct and contemporary style. The cross also has all it's original deep purple-blue tone & patina which has naturally developed over the years since it's issue.

A RARE & TOTALLY STUNNING AWARD......ONLY 208 MILITARY CROSSES WERE AWARDED FOR ACTIONS ON 1st DAY of THE SOMME.SATURDAY 1st JULY 1916.

Robert is also entitled to a WW1 pair which apparently and recently went through a London auction house together with a WW2 DSO and other medals to a younger Richardson brother.

£3995With Enquiries & Part Exchanges Welcome.