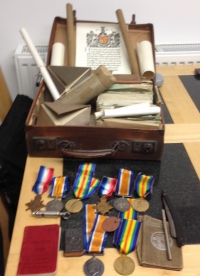 WELCOME TO OUR NEW 'SPECIAL 1st DAY, BATTLE OF THE SOMME SECTION. THIS WILL CONTAIN MEDALS, PLAQUES & ALL OTHER ITEMS WITH PARTICULAR RELEVANCE TO THIS WORLD CHANGING BATTLE.
We wish to buy all 1st Day, Battle of The Somme. 1st July 1916 Casualty Medals, Plaques, Scrolls and datable items which are associated with 1st JULY 1916
Call us today on: OFFICE: 01342-870926, Mobile: 07837-621144, or e-mail on ' dragonbrit@aol.com ' Looking forward to hearing from you.