A SUPERB, CLASSIC & RARE 1914-15 Star Trio,
"RICHTHOFEN FLYING CIRCUS" / "BLOODY APRIL" KILL.
by
(Karl Emil SCHAFER)
A JASTA 11 ACE.   
1914-1915 Star. War Medal and Victory Medal Trio
To:  
475878  L.Cpl F. R. Henry P.P.C.L.I.
(Princess Patricia's Canadian Light Infantry)
on Star.
Captain F. R. Henry
on War and Victory.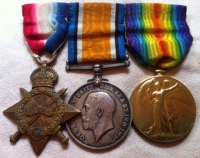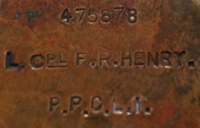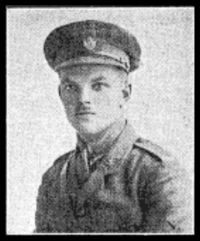 Frank R. Henry attested with No.3 University Company and originally served with the P.P.C.L.I. in the field. He was the Son of William Thomas Henry, Major of Edmonton, Canada. (BELOW)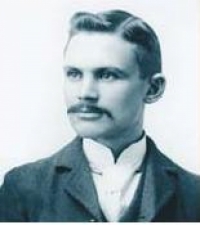 He was enlisted in late 1914 and later commissioned as a scouting officer into the 49th Canadian Infantry Battalion.
He then transferred to the Royal Flying Corps and became a Lieut Observer on DH4 daylight bombers with No. 55 Squadron. 
 The squadron had only arrived in France on 8th March 1917 when it almost immediately commenced daylight bombing raids at the start of the Battle of Arras.   


Henry and his pilot Captain Robert A Logan MC
 were shot down just
four weeks later on 8th April 1917 and were both taken as POWs to Schweidnitz  German POW camp. (Captain Henry was very badly wounded and spent a long period in a German hospital) . Logan was the first Canadian civilian pilot to gain a commission with the RFC. Henry & Logan here seen with the Germans just after the shoot down.

Three DH4 aircraft were lost during this raid by 55 Sqd and these were the first losses suffered by the unit in combat. Four aircraft had set out to bomb the HQ of Crown Prince Rupprecht some distance away at Mons. Two aircraft were shot down returning from the action.        
The first successful combat was claimed by Lt Karl Schaefer, and the second by Kurt Wolff, both of JASTA 11, the famous Flying Circus of Baron Manfred Fr Von Richthofen, The Red Baron). Wolff's Kill was his 8th Victory and was DH4 No A2141 crewed by Lt Bernard Evans (17/Middlesex Rgt and RFC,) and 2/Lt Basil Walwyn White (Liverpool Regt and RFC) The third aircraft was hit by Anti Aircraft fire.


Karl Schaefer shown (2ND left) in the famous "Flying Circus" photo with The Red Baron and the other Jasta 11 pilots. Also shown to the immediate left of  The Baron who is pictured in the cockpit of his Albatros DIII.   
   Richthofen himself was engaged in the dog fighting with these 55 squadron aircraft on 8th April along with several of his pilots. Schaefer was a very keen officer who had joined Jasta 11 a short time earlier with no kills. Before long The Baron had taken him under his wing and had trained him to a high standard in aerial combat techniques. This was his 13th kill.  He became a close friend of Richthofen and by the time Schaefer was himself killed on 5th June 1917, (by Captain Harold Satchell & Lt Thomas Lewis, RFC) he had a score of 30 allied aircraft destroyed, his last victory being a day earlier on the afternoon of 4th June 1917 . The Red Baron himself only had a short time to live and he himself was killed on 21st April 1918.
Frank Henry was released from captivity on the cessation of war. He got home in 1919 to a warm welcome by his father The Mayor and his family.
Unfortunately Henry died of illness in 1925. (Duodenal Ulcer & lobar pneumonia)
Flying Circus related medals of this quality hardy ever come onto the market and are highly prized and sought after by WW1 aviation enthusiasts and serious investors.
 Swing mounted and sewn on the original pin and ribbons.
Includes a CD containing much documentary research.
An Unrepeatable Classic , Fit for the finest collection. 
THIS UNIQUE GROUP IS NOW ON DISPLAY AT THE ROYAL ALBERTA MUSEUM, EDMONTON.PURCHASED FOR THE NATION BY THE CANADIAN GOVERNMENT.MEDALS OF ENGLAND WISHES THE MUSEUM WELL WITH THE OPENING OF ITS NEW GALLERY IN 2017