A CLASSIC ROYAL FLYING CORPS 1914 Star & Bar Trio & Death Plaque. To:

Lt WILLIAM MIDDLETON WALLACE

5th & 1st Bn RIFLE BRIGADE & R.F.C.

Who was

KILLED IN ACTION on 22nd AUGUST 1915

with No.3 Squadron, R.F.C. (BE2c Observer) BIOGRAPHY
William Middleton Wallace was born in Edinburgh on 23rd September 1892 and was educated at the Edinburgh Academy from 1899 to 1912. While at the Academy he played full back for their XV ( becoming captain of the XI in 1911. He won the Bradburn Shield for best all-round athlete in 1910. The Burma Cup for the highest number of wins in the school sports of 1912. He also won the fives cup in 1910, was in the gymnasium Eight in 1911 and created the school high jump record (5ft 5inches) in 1911. Not surprisingly Wallace was considered to be one of the most versatile schoolboy athletes of his generation. He then moved on to King's College Cambridge where he remained until 15th July 1914. At Kings he played so well in the Freshman's match that his place as full back in the Varsity side against Oxford in 1912 was assured. In 1913 and despite a serious wrist injury sustained while playing at Newport during the Lent term ,he was selected again. With the selectors watching on Wallace's splendid fielding, long kicking (with either foot) and confident style left him to his selection for the National XV of Scotland. He went in to play against England in 1914 and 1914 and against Wales and Ireland in 1914. During these years Wallace was considered to be the best full back in the United Kingdom. It was said of Wallace that he was: " too cool, too daring and over confident " , but that was his natural way. He did everything, from driving motor cars to wicket-keeping on the same spirit, as though nothing mattered and as if nobody was quite so good as he. This was not due to conceit p, but down to sheer self-confidence of the right type. Wallace was gazetted into the Army in August 1914 and he left for France on 11th September in the second wave of re-enforcements to the 1st Rifle Brigade which had fought so gallantly and with such loss in the first few weeks of the war. He saw action in the front line during The Battle of The Aisne, Frelingheim and at Ploegsteert Wood. He then transferred to the ROYAL FLYING CORPS on 14rh February 1915 joining No.2 Squadron at HESDIGNEUL as a trainee Observer. He saw action with the squadron at Neuve Chapelle,Aubers, rue,d'Ouvery as well as numerous other actions within the Armentieres-La Bassee Canal area. While with 2 Squadron he served with and became acquainted with William Barnes Rhodes-Moorhouse the first air Victoria Cross recipient of the war. Willy Rhodes-Moorhouse had joined the squadron in March 1915 and won his VC in 26th April at Kortrijk in Belgium, but sadly died of his wounds the following day. By July 1915 Wallace had become a senior observer within the squadron and was promoted lieutenant on 21st July.
SEEN HERE WITH SOME OF HIS 2 SQUADRON FELLOWS (back row 2nd from left holding 'Friskquette' the squadron puppy dog who features on many photos of the period) On 22nd August 1915, Wallace was flying as observer with his friend 2/Lt Charles Gallie in BE2c airframe number 2034 over the enemy lines near Lille when they suffered a rare direct hit by a German anti-aircraft shell. One eye witness said that the aircraft 'fell like a stone' and it crashed near the village of Sainghen. Both men were originally buried close to the crash site but after the war their bodies were re-interred with 3,187 other casualties at the Cabaret-Rouge British Cemetery at Couchez in plot number XII. D 11. The German government later returned his dog tags, three photos and his silver cigarette case to his father via the American Embassy.Wallace is mentioned in the diary of Captain Smith of 2 Squadron in his entry for 'Sunday July 18th 1915. "German aeroplane came over at 7.30 am. - ascended with Lt. Wallace, lost sight of enemy while going through clouds & did not see him again. In evening at 6.30 went over Bethune Electric Power station with Capt. Heathcote. Returned at 7.30 to find a Zep. reported, being 'duty pilot', I went up & remained aloft for 40 mins reaching 7,000 ft but saw no signs of the Zep."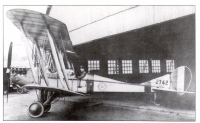 AN ALMOST IDENTICAL BE2C SHOWING THE FRAGILE NATURE OF THESE EARLY OBSERVATION AIRCRAFT THAT DID NOT FARE WELL AGAINST THE GERMAN FIGHTERS OF THE PERIOD


HISTORICAL BACKGROUND
Thoughts of the 1914 and 1918 Calcutta Cup matches at Twickenham stir some raw and somber emotions in those who study Rugby Football. No one is now alive who witnessed these two matches between England and Scotland on either side of the Great War. These two historic fixtures will forever be touched with anguish and great sadness. Almost 100 years ago in 1918 there still remained an unease about sport and recreation as these islands were still numb with the trauma caused by the massive losses of The Great War. After four years of vicious fighting, the great guns had finally fallen silent on 11th November but for months later it just didn't seem right to be playing sports with so many of our young and athletic boys laying dead beneath the killing fields of France. The war had left the Rugby world with a grievously depleted roll call of surviving players who had somehow survived the carnage over the channel. ( FURTHER RESEARCH FOLLOWS )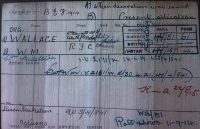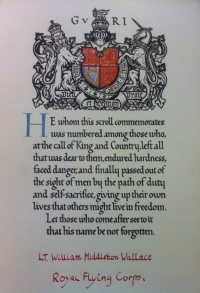 We have thought it fitting to add one of our hand produced and lettered commemorative scrolls for Lt Wallace, as a mark of respect and to assist in his eternal remembrance. Although of course his original trio and plaque are both present, his original scroll, like so many others has probably not survived the past 96 years. THE MEDALS, CLASP AND RIBBONS ARE TOTALLY GEM MINT, AS IS THE PLAQUE WHICH COMES IN ITS ORIGINAL CARD HOLDER.
A seriously rare and desirable group to a casualty lost at the dawn of air combat in The Great War.
WILLIAM MIDDLETON WALLACE WAS ONE OF SCOTLAND's MOST FAMOUS SPORTING SONS. HIS FAMILY HOME WAS AT , 7 INVERLEITH ROW, EDINBURGH. HIS FATHER, MR R.W. WALLACE IS SHOWN AS NEXT OF KIN ON THE REVERSE OF THE MIC.
LEST WE FORGET. SOLD ( Provenance: Ex-Hal Giblin Collection )