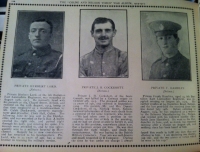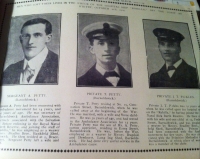 THE "COLNE & NELSON TIMES" WAR ALBUM (1914-1915)

500 PORTRAITS & BIOGRAPHICAL SKETCHES of HEROES from NORTH-EAST LANCASHIRE & THE WEST RIDING.

We are pleased to announce our upcoming re-print of this much sought after WW1 publication.This is the classic type of early and seriously rare 'short print run' locally produced 'one off survivor' reference books, the originals of which over a century after production often only survive in microscopic numbers. You always see this type of early reference book in someone else's medal research library and no matter how much you search you can't ever obtain a copy yourself for love nor money. ......Well now you can!

A "MUST HAVE" book for the serious medal collector, WW1 historian or researcher.

This is a really excellent but now all but unobtainable title. This 180 page book contains hundreds of pictures and interesting biographical details of the brave men of North-East Lancashire and The West Riding of Yorkshire, who, with the Army, Navy and RFC fought and died or were wounded and decorated during 1914-1915.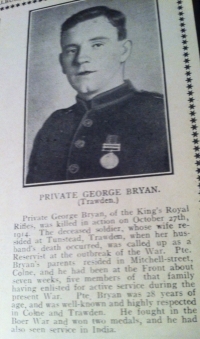 Most of the men listed here were 'Old Contemptibles" and pre-war regulars, many of whom, such as Pte George Bryan (seen left) had already had distinguished careers in the Boer War. All the casualties recorded in this publication check out on the CWG site and can be cross referenced for additional details. In many cases the muster and attestation documents for these men ( the burnt records ) no longer exist, so the wide biographical details and many gallantry award particulars recorded here are a pretty much unique reference source.

ORDERS CURRENTLY BEING ACCEPTED.PRICE WILL BE APPROX £65 PER COPY (Post Free) .

PUBLICATION DATE SEPTEMBER 2015.