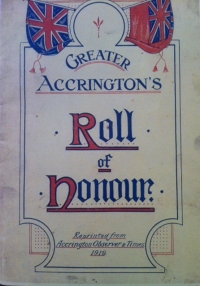 .
.







GREATER ACCRINGTON (Lancashire)"ROLL OF HONOUR"
Our Superb 27 page reprint showing the Name, Address & Unit of some 780 men of all services from Accrington & District who gave their lives during The Great War. (Includes the PALS & 11th Battalion men)
ONLY £7.50 inc postage.
[REPRINTED FROM THE ACCRINGTON OBSERVER & TIMES, 1919.]The wartime losses endured by the tight knit community of Accrington are legendary in military circles with entire streets of young men who had gone to war together practically wiped out. Many of the young women of the area never married as there were simply not enough young men to go around after the carnage suffered in this pitiless war.
"LEST WE FORGET"