A Scarce "NELSON BATTALION" 1914 Star Trio.

To: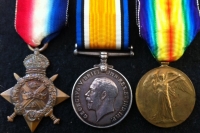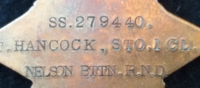 SS.279440.
THOMAS BENJAMIN HANCOCK. 
Sto 1 CL
NELSON BTTN. R.N.D.

Hancock was born in Bristol 29th September 1873 and enlisted for 12 Years  on 18th April 1895.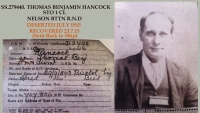 He is seen spending many days in the cells between 1904-1906 and again in 1915 and 1916. He deserted and was recovered in July 1915 (returned to his ship) with a "discriptive return" being sent to the ship.
(HMS DORIS)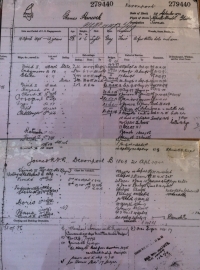 Includes Copy service documents and photograph. 
Medals Nice EF on Original Ribbon
SOLD