THE WORLD WAR TWO MILITARY CROSS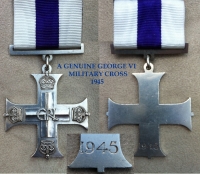 A Genuine WW2 Military Cross of Georve VI.
Correctly dated 1945 in Official 'Chisel' style engraving on the rear of the lower arm.

(*Click on picture to enlarge)
*Note, the clean, sharp, accurate strike to all areas of the cross and particularly the crisp definition to the terminal crowns and the central Royal Cypher. Your particular attention is drawn to the distance between the bases of the crowns and the ends of the central cross, which on the original medal provides a very clear gap and separation. The execution of the central cross is also totally straight with no curvature of line.
and level. On the original, the lettering of the Royal Cypher is also neat and sharp.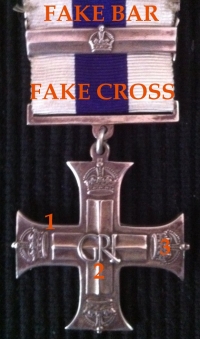 A FAKE CROSS with A FAKE SECOND AWARD CLASP.

The entire definition to this and many common fakes is 'wooly',ill defined and far from sharp. The spaces between the central cross and terminal crowns (1) are narrow and rest VERY close to the ends of the raised cross. The crowns themselves (3) are also bigger on the fake than on an original cross. The lettering shape and entire positioning and style of the Royal Cypher (2) is totally 'wrong' and is much more 'clumsy' than the original. The edges on the central cross are far from level and tend to curve toward the ends.
THE FAKE CLASP
Everything said about the quality of the fake medal also pertains to the fake clasp which is very inaccurate,un-sharp and wooly in its production with sloping edges and an off line-off centre central ridge. Normally found undated or dated on a modern engraving machine with double lined numbers which are trying, but failing to impersonate chisel engraving.
SUMMARY:
Not difficult to spot if you are a fairly experienced collector, but with its apparent 'old tone' ( produced by bleaching) this can be deceptive item to a beginner.
This little assembly cost (and lost) the buyer the Princely sum of £850 !
BEWARE ! ....The FAKERS are out there !
On the next button.......The Aircrew Europe Star.