MILITARY MEDAL (GV)
253rd TUNNELLING CO. ROYAL ENGINEERS
(VERY SCARCE)
L.G. 14th September 1916
Recipient was Gassed, Somme, 23rd September 1916.


To:
102943. A. SGT. R.REEVES. 253/T'LG:CO: R.E.

A very scarce and extremely desirable award to a tunneller.
The unit was mentioned in the dispatches of General Haig.The Unit was also employed "Repelling and Carrying Out Local Trench Raids".
The Unit is seen at "MARCELCAVE" on 26th March 1918 dug in as Infantry where it suffered 100+ casualties. Unit was later reformed at Boves.
He is also entitled to a 1914-15 Trio.

Reginald Reeves was born in 1884 and was enlisted on 20th July 1915 as part of the newly and hurriedly assembled tunnelling companies sent to France to counter the serious German underground threat.
M.I.C. ENTERED FRANCE 10.10.15.

He lived at 26, The Mossley, Rugeley, Stafford and was a 31 year old Miner before joinin the Army. His MM is mentioned in the Regimental Defaulters and Conduct List ( if it can be found) and a copy of his service papers, which have survived, are included with the medal.
REGINALD REEVES WAS GASSED ON 23rd SEPTEMBER 1916
( Further research possible )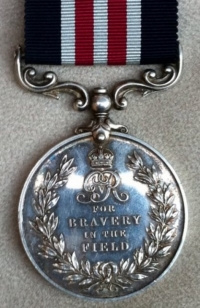 MEDAL IS ALMOST MINT ON ORIGINAL RIBBON
RARE

SOLD