BRITISH SOUTH AFRICA COMPANY'S MEDAL
( Rhodesia 1896 Reverse )
SALISBURY Field Force

To:
CORPl, C.J. DE JAGER. SALISBURY Fld Fce.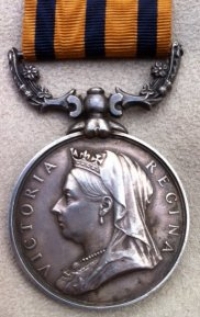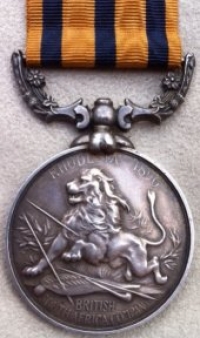 A most interesting and fully documented medal to one of early Rhodesia's original settlers, Mr Casper De Jager.
New to the market direct from the family.

Comes with several pages of photo copied biographical deatail.
The medal is interestingly housed in an original green leather and velvet watch case from the company of:
"J. Kirschbaum, Watchmakers and Jewellers, Salisbury, Rhodesia"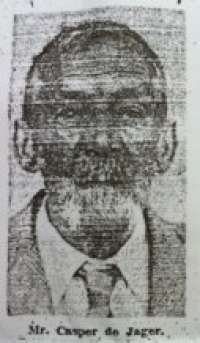 BIOGRAPHY
Mr De Jager and his brother were orphaned at an early age and were brought up by a Scotish couple living in the Free State near the Basuto border. They trekked to Rhodesia arriving there well before the Pioneer Column. Casper served with Grey's Scouts during the rebellion and at the end of the campaign , Cecil John Rhodes himself, with whom he had become well acquainted, gave him two farms in the Marandella District one of which was at Mt. Anwa.

Mr De Jager had a wide knowledge of the Marandella District and was consulted by Sir Charles Metcalf (1st Engineer of Rhodesian Railways) and his surveyors about the possible routes for the planned railway line between Headlands and Marandellas. He rode with them along the watershed which is the route the railway still follows today. When farming became difficult he worked for the Vetrinary Dept at Rusape and it was here that he rescued a lady called Marie from a train stranded in the washway. Mr De Jager, a stout Methodist sadly died at the ripe old age of 93 or 94 at Marandellas in 1955.
Among the wreaths laid at the Marandellas Methodist Hall was one from the Southern Rhodesian Government inscribed to:
"One of the country's earliest settlers"
( AND A FRIEND OF CECIL RHODES HIMSELF)
A MOST IMPORTANT MEDAL Of GREAT INTEREST
TO STUDENTS of EARLY RHODESIAN HISTORY.
TONED EF+ ON ITS ORIGINAL LENGTH OF RIBBON
SOLD