Distinguished Flying Cross (GV)1918.
1914-15 Star Trio,
Defence & War Medals 1939-45. Air Efficiency Medal (GVI)
To:
2/Lt - Wing Commander, William Henry DEMEL.
2/Lt 9th Manchester Regt -
PILOT (FE2c)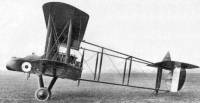 149 Squadron, Royal Flying Corps,
Royal Air Force & (44 Group 'Ferry Command' RAFVR).
Auxiliary Air Force.
DFC : Unnamed as issued and undated with correct George V 1918 Cypher.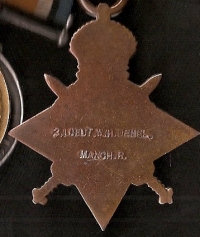 Star: 2 LIEUT. W.H DEMEL. MANCH. R
Pair: CAPT. W. H. DEMEL. R.A.F.
Defence & War Medals: Unnamed as issued
Air Eff: WG CDR. W.H. DEMEL A.A.F.
William Henry Demel was born 4th April 1893 in Manchester where he is seen in the senior division of the O.T.C. at Manchester University being commissioned 2nd Lt on 13th April 1915. He initially served in EGYPT and GALLIPOLI from October 1915 and was later seconded to the RFC on 15th June 1917.
Awarded D.F.C. (LG 3rd June 1919 Page 7031)
For gallantry in the air while serving with 149 Squadron in France during The Great War.
During WW2 Sqd Ldr Demel commanded 44 Ferry Group RAFVR and was recommended for the OBE although no award has been traced.

History of No.149 Squadron RFC
149 Sqd was formed at Ford on 3 March 1918 and was equipped with RAF F.E.2b and F.E.2d pusher bombers, working up quickly and flying to France on 2 June. Trained for night bombing duties, No.149 became active in this role from 16 June, when it moved to Aiquines. Most of the time it flew night raids against German rail and road targets, as well as attacking their aerodromes to good effect. It also made reconnaissance flights with the use of flares to establish German positions.
During the Allied 'push' in September 1918 the squadron concentrated on tactical bombing from Clairmarais,

making a particularly intense and successful effort on two nights at the end of the month. Then, in driving rain with a cloud base of 1,000 ft , it bombed the roads in front of the Ypres salient, dropping 12 tons in two nights and firing the nose guns of the 'Fees' at every light seen. Some crews flew up to nine sorties each night.
The squadron then returned to strategic bombing in the Germans' rear until World War 1 was over. It then became part of the Army of Occupation (the only F.E. squadron to do so), remaining at Bickendorf until March 1919. The squadron then moved across to Tallaght in Ireland before disbanding on 1 August 1919.

William Demel married in 1922 and had five children (4 daughters and 1 son) with his wife Phyllis. The son, Flying Officer John Glassford Demel was killed in a flying accident while undergoing pilot training in South Africa on 9th October 1944 and is buried at Standerton Cemetery (Grave 312)
Wing Commander Demel resided for many years in Aston -upon-Mersey and died on island of Anglesy in 1979.
A rare, magnificent & highly unusual group. Almost certainly a unique combination with both a DFC and an Air Efficiency Award .
Swing mounted and as worn on the original ribbons.
Also included is a Magnificent and Superbly Hand Illuminated and framed award parchment, by Alan Tabor the well known calligraphist of the period from Manchester. This was presented to the recipient by Stretford Urban District Council (Manchester) on 6th January 1920 on the award of his DFC:
Presented to Captain William Henry Demel 9th Batt, Manchester Regiment and Royal Air Force
"Cranford" Sandy Lane, Stretford.
"For Bravery and Devotion to Duty in the Great War"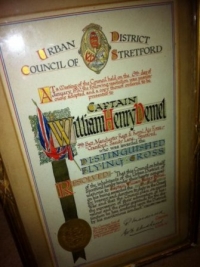 (SOLD)
xx(rev)yaba/c/yaoe