ROYAL CANADIAN AIR FORCE.
BOMBER COMMAND
(CASUALTY).
199 (R.A.F) Sqd, R.C.A.F.
(Wellingtons)

KILLED IN ACTION.
13th FEBRUARY 1943.
(Age 24)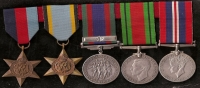 ALL medals impressed,
To:
J/9738. F/O ROBERT J. KEYES.
199 SQDN. R.A.F.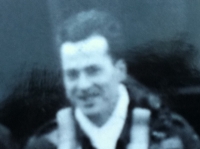 1939-45 Star, Aircrew Europe, Canadian Voluntary Service Medal (& Clasp) Defence Medal, War Medal)

All medals are impressed in small neat capitals as is the normal style with R.C.A.F. awards. *Note* The Voluntary Service Medal AND the Defence and War Medals are struck in .925 Sterling Silver as is normal to Canadian service recipients.
Flying Officer Robert Joseph Keyes was born on 2nd March 1918 and enlisted in the RCAF on 16th November 1940. He proceeded to England in February 1942. He was posted to 199 Squadron in November 1942 as a Radio Operator/Air Gunner. He flew several sorties in late 1942 and early 1943 from both RAF Blyton and RAF Ingham with emphasis on minelaying at sea. He and his Wellington unit was closely involved in bombing and mine laying around the German Submarine base at Lorient, France, during January and February 1943 to where he flew on two occassions in January and three occassions in February.
On his final mission on13th /14th February 1943 his Wellington III aircraft (X3870 EX-S) was lost with its crew of six when having been hit by flak it crashed in the target area (Lorient). All the crew were buried on 17th February at Guidel Communal Cemetery, Morbihan. France (in Row 5, Grave 6)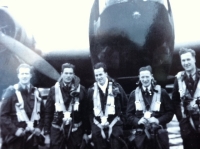 Photograph taken early October 1942 of F/O R.J. Keyes with a previous 150 Squadron crew who were sadly all killed in action on 31st October 1942 on a raid to Emden. Wellington aircraft BK360 was
shot down by Ofw Ernst Keesen 5/JG1.
F/O Keyes was ill in hospital at the time and later posted to 199 Squadron where he himself was killed on 13/14 February 1943.

LEFT TO RIGHT
Flt/Sgt -W/O A.G. MAKAY (RCAF) Pilot
Flt/Sgt C.R. PATTON (RCAF) (Air Gunner)
F/O R.J. KEYES (RCAF) (WOP/AG)
F/O W.A. TOLMIE (RAF) (Pilot)
Flt/Sgt J.G. COCKS (RAF) (Observer)

ROBERT JOSEPH KEYES was the son of Robert James Keyes and Regina De Sales Keyes, of Regina, Saskatchewan, Canada
Group comes with a reference document extracted from AIR/ 27/1172, documents from the Department of Veterans Affairs, Canada and printouts from CWG records, Squadron history etc.
£ (SOLD)