UNIQUE ROYAL NAVAL AIR SERVICE / R.A.F / WW1 and GSM "IRAQ" M.I.D. TRIO with a ROYAL NAVY LSGC. (4)

BRITISH WAR & VICTORY MEDAL To: Lieut G. Croft R.A.F.
G.S.M. (GV) 'IRAQ' (with MID Oak Leaf ). To: F/O. G. CROFT. R.A.F.
ROYAL NAVAL L.S.G.C. (GV) To:291354. GEORGE CROFT. STOKER. HMS. PEMBROKE.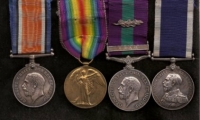 A man with a most unusual career who clearly 'had a go' at a lot of different activities during his service life. George Croft was born in Foston, Yorks, on 3rd December 1880 (RNAS papers state 1881) and was a Labourer by trade before joining the Royal Navy aged 18. He served on various R.N. ships and at several shore establishments during the 18 year period 1899-1917. On 17th May 1913 he was "Selected for the course of instruction in flying beginning on 17.5.13 at The Central Flying School" His air service pay was to be 4/- per day from 15.9.1913 and increased to 6/- per day from 6.3.1914. Chief Petty Officer Croft was clearly learning to fly at a very early date in aviation history as the CFS courses only started on 12th May 1912 and there were somewhat less than 300 Royal Aero Club licenced pilots at the end of 1912 in the whole on the UK. Indeed only 93 military pilots had been trained at CFS by the start of The Great War on 5th August 1914.
Thus Croft was a true pioneer. He continued in service with the Royal Navy until he is seen 'officially' joining the Royal Naval Air Service on 7th May 1917 as 'Warrant Officer 2' on 'A' Duties at Dunkirk. On 1st April 1918 the R.N.A.S. and the R.F.C. amalgamated to form the R.A.F. and George Crofts WW1 medals and IRAQ medal are thus named to the RAF.
Flying Officer George Croft RAF was 'Mentioned in Dispatches' for 'distinguished service' (By Lt-Gen, Sir J.A.L. HALDANE K.C.B. D.S.O. Commander-in-Chief Mesopotamian Expeditionary Force) London Gazette. 28th October 1921 (Page 8496)
Much further research possible into Croft's RAF service in IRAQ.
VERY SCARCE (A Possibly Unique Combination)
£- SOLD-