LIVERPOOL SHIPWRECK & HUMANE SOCIETY MARINE MEDAL
(3rd Type) Bronze.38mm.
(Original Case)
To:
John Fitzgibbon,
For Bravely diving into the Leeds and Liverpool Canal near Lightbody Bridge, and rescuing a child from drowning on the 9th June 1934.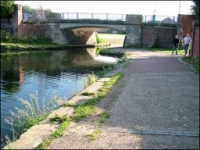 (LIghtbody Bridge as it is today)



In addition to the medal Fitzgibbon received a Certificate of Thanks, and 20/-shillings.
EF / AS STRUCK

SOLD