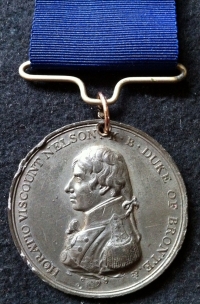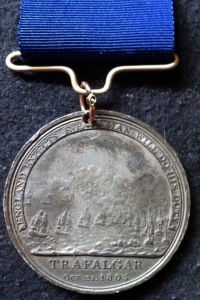 MR BOULTON'S TRAFALGAR MEDAL

( White Metal ) "Awarded by Matthew Bolton to all 'other ranks' who fought at The Battle of Trafalgar" A well loved and regularly worn example of this naval classic with a few edge bumps, but in overall VF condition with nice detail & a good portrait of Admiral Nelson.Edge Inscription:

FROM M: BOLTON TO THE HEROES OF TRAFALGAR.

Reverse Inscription:

"ENGLAND EXPECTS EVERY MAN WILL DO HIS DUTY"

A highly emotive award. 15,000 examples of this famous medal were struck by Mathew Boulton in Birmingham at his famous Soho Mint. Boulton was privately outraged that George III had not recognised the bravery of the sailors of Trafalgar with an award, so he had this medal struck at his own expense. However, most of them ended up in the harbour as not being made of silver the crews felt 'slighted' and threw them over the side as they were worth nothing in a pawn shop. The officers received silver medals !! The situation wasn't put right by The Crown until the production of The Naval General Service Medal in 1848 which carried the clasp TRAFALGAR for those eligible and still alive to claim. Many (most) of the crews were dead by 1848, so the NGS became known as 'the dead man's medal'.
(Mr Boulton's medals are also sometimes available in high grade condition, but tend to bring £700-£1000 at auction in EF-MINT ) This example is a genuinely worn piece of great historical interest as somebody clearly and proudly wore it !SOLD