THE 1st DAY, THE BATTLE OF THE SOMME
La Boisselle, France, Dawn on Saturday 1st July 1916.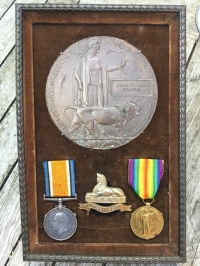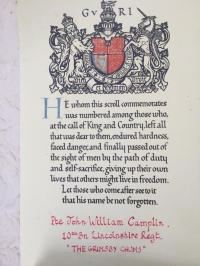 It was a bright and sunny morning after a period of heavy rain....
The birds were singing in a blue sky and just over 1,000 men of the 10th Lincolnshire Regiment "The Grimsby Chums" were waiting in their trenches, .......some had just finished singing some popular songs.
It was 07:28am...and within just a few minutes over 400 of them would be dead.

(The 10th Battalion The Lincolnshire Regiment)
"THE GRIMSBY CHUMS"
Like most of the rest of the British Army, the soldiers of the Grimsby Chums got wind of the soon coming "big push". At this time the men were encamped just a few hundred yards behind the front lines at Becourt Wood which can still be seen clearly to the south-west of La Boisselle. It was from here while billeted in the woods that John Camplin wrote his final letter home on 13th June 1916. For some two weeks beforehand their involvement in working parties had greatly increased and they were employed in very poor and wet weather, fetching supplies, gas and ammonal explosive up to the front lines. The explosive was then taken deep underground by the engineers in readiness for the massive mine explosion (which formed *The Lochnager Crater) It was hoped this would destroy a large part of the defending German line just prior to the mass British attack that would mark the opening of The Battle of The Somme.
"*The largest British mine crater on the Western Front, this was one of several mines exploded under the German front line positions on the Somme on 1st July 1916. A charge of 60,000 lbs (26.8 tons) of Ammonal explosive was blown at 7.28am resulting in a crater 90 feet deep and 300 feet across."
The Somme area had been chosen as the battleground for the Big Push, and the attempt to destroy the German front line began in earnest a week before zero hour. Literally MILLIONS of high explosive shells were fired into the German positions The 10th Lincolns could well hear the bombardment and John Camplin mentions in his final letter that he was "listening to the big guns being fired". They could see the damage inflicted on the enemy trenches and they fully believed what they were told by the officers, that the enemy would not survive and that the attack would be over within hours. The men were told that they would be able to "go across No Man's Land while kicking a football" or "with just a walking stick."  The reality of the situation was to be tragically different as the Germans were dug deeply and safely into the chalk and thus survived the massive artillery barrage almost untouched. The noise from the great guns was so great it could be heard on Hampstead Heath and in London. The Battle of the Somme was to be the first use, in mass, of the New Kitchener Army which had been recruited in the Shires during late 1914 to assist and supplement the B.E.F. which had been fighting in France and Flanders since early August 1914. This new force had been raised by appealing to young local lads to join up and "fight together with your mates, pals and chums". The famous Lord Kitchener poster said the rest. The loyal and brave young men of England joined the army in their tens of thousands  

THE FAMOUS "YOUR COUNTRY NEEDS YOU" POSTER

The new army and its Somme Offensive was primarily designed to relieve pressure on Verdun where the French were locked in a fight to the death. Faith in the ability of this New "Volunteer" Army was not high among the regular Staff Officers of the British Command. They did not believe an attack would be successful if it relied solely on the infantry. In order to help, a massive and unyielding bombardment was commenced which turned out to be one week long and up to that point the largest ever seen in the history of warfare. The word was sent round that nothing would remain of the German front line at zero hour on 1st July, allowing the New Army to walk at a steady pace, in line, so chaos did not occur.

The 300 yard section of the British front line held by the Grimsby Chums was only about 400 yards from the edge of La Boisselle, and lay to the immediate south–west of the village, which itself is just a few miles (a ten minute drive) north-east of the town of Albert.

The British front line trenches in this place looked out across the shallow landscape of Sausage Valley and beyond it towards the higher ridge on the further north-eastern side of La Boisselle where some of the main German positions lay.   

Just two minutes prior to attack, at 7.28 am, the HUGE "Lochnager" mine was exploded. It was detonated just 350 yards away and immediately in front of the Chums' position, on the other side of no man's land and right beneath the German front line. This massive explosion totally vaporised about five German dug-outs and some 450 men who have never been found, but it was still not enough to ensure the complete destruction of the front line German positions. The Chums attacked at 7.30 am, but unknown to the Battalion, the mine chamber fell short of the main German positions and during the 2 minute gap between the explosion and the "over the top whistle" the enemy had the chance to set up its machine guns and mortars.

The Chums were drawn up with A Company on the right, B Company on the left and C Company right opposite the crater, were in the centre. D Company were in reserve for phase two.

My Great Uncle, 1107, Private John William Camplin, fought with C company.

At the whistle signal the men advanced in four straight lines with no hesitation, but it was only a matter of moments before the first men fell, as the German mortars and machine guns opened up from higher ground positions on both sides of the newly formed crater.

Officers and men alike were caught in the withering crossfire and dropped to the ground as if the move was planned in training, in fact they were killed or wounded.

Several men were able to take temporary shelter under the newly formed low lip of the crater and Private John Camplin was one of those men, who being in C company had been in the trenches almost directly opposite to the explosion. This massive blast was just about the very last thing John ever saw before he was killed.  Born in 1894, he was 21

 

1107. Private John William Camplin,

10th Battalion The Lincolnshire Regiment.

( My maternal Grandmother's only brother, from Temple Bruer, Sleaford, Lincs)  

KILLED IN ACTION at La Boisselle 1st July 1916

John Camplin is mentioned (on page 73) of the regimental history and the following is a transcript taken from it.

" None was so weighed down as the battalion's signallers. In addition to their ordinary kit they were encumbered with reels of (electrical) wire which, theoretically, they were supposed to unwind and so maintain telephone contact as the advance progressed. The fate of the "A" company team was typical of the remainder.

L/Cpl Eddie Powell and Pte Eddie Burrell did their best to wind out the wire. Under the unrelenting fire they too made it to the modest shelter of the crater. Three times they ventured from the crater's lip to fulfil their task. On the last sortie they were both shot dead. Not far from them lay 20 year old Harold Cammack whose parents ran the Bull Ring Coffee Hall and John Camplin, an only son, and Sydney White the son of a town councillor. They were all dead."

                               

Only a few men reached the German trenches, bombing for all they were worth, but in too few numbers they had to retreat.

By 9am D Company were sent to attack led by Major Vignoles, who was soon hit in the hand. Again, the assault broke up and the 10th Lincolns were left powerless to attack with men laying in shell holes all over no man's land in the baking sun. All were waiting for nightfall to be able to crawl back to their own lines for treatment.  Many men were trapped by the machine gun fire and lay wounded and dying out in no man's for over 30 hours before they could be brought in. Several further attempts to attack were made with the remnants of the Battalion on the 2nd and 3rd July, but when they were finally withdrawn and the roll was called, it read;

15 Officers and 487 men ( out of 1000 ) killed, missing or wounded".

Sadly JOHN CAMPLIN was one of those killed in the first few minutes of the attack.

John's war clearly and sadly lasted only a very few minutes and having myself been to La Boisselle during April of 2009 and having re-traced his footsteps over the same slightly rising ground up from the position of the British trenches just north of Becourt Wood I can tell you that based upon the regimental report above, he did very very well indeed to get as far as he did.

John almost certainly reached a position which is just over 300 yards out from his trench. Some men only managed to get a few feet out of the trench before being killed or wounded, but it is clear that John got right across no man's land and into the shelter of the crater's lip. From regimental accounts of the initial assault it is also apparent that he was right there by the crater's edge, sheltering from the hail of bullets and resting for perhaps a couple of minutes before moving on.

He had evidently had a good degree of "Lincolnshire Luck" to have walked this very large distance under what was constant and withering machine gun and mortar fire. Having sheltered for a brief time under the cover of the crater's lip, and to get his breath back, it looks like he then attempted to continue his assault and move forward and around to the right side of the crater's curve toward the German front line. He sadly got very little further before being fatally hit.

I think (I hope) it is almost certain that he was killed instantly by machine gun fire coming from his immediate right where the enemy position was being defended by the 109th Reserve Infantry Regiment, (28th Reserve Division) of The German Imperial Army.

On receiving the news of his death, my great grandmother Mary Camplin was inconsolable and could not understand where he had gone and refused to accept that he was not coming home to Sleaford. She was later told in a letter from a fellow surviving soldier that they "could not find him" and she is on record as having said, "well they damn well better keep looking because I want him back here with me". 

Having been to Gordon Dump Cemetery which is only a few dozen yards from the crater where John was killed, there are a number of "Grimsby Chums" in named graves , and one or two marked "A Soldier of The Lincolnshire Regiment"  and also "Known Only Unto God" ...........

I would like to think that Great Uncle John is one of those 'unknown soldiers' 
He is also commemorated on the Theipval Memorial to the missing.         

 Aftermath - Breaking the News   News travelled slowly in 1916 and it wasn't until the 10th July that the casualty lists began to trickle back to the town. Over the next few days the size of the disaster was apparent. Letters from survivors, now in rest camps, spoke of the gallantry of their dead comrades. Letters were written by surviving Officers to the families of the dead and La Boiselle was eventually taken on 6th July.

New Drafts   March 1916 saw conscription enforced in Britain, but these men were not from the same mould of the New Army men. New reinforcements arrived unannounced from the North and East Midlands, but very few from the Chums official reserve, the 11th Battalion. Some of these new men had only been enlisted for four months.

After a period of rest and training the Chums were sent to the line at Bazentin-le-Petit for 6 days where the conditions were appalling. This again was not a good time for the Lincolns as they lost a further 200 casualties. This was the final action in which The Chums were involved on the Somme. The battle officially ended in late November 1916.

Of the Battle of the Somme's Armies, the Fourth Army had the highest losses.

In this Army it was the 34th Division that had the highest casualties and it lost 80% of its strength on the 1st July alone, probably most within the first 15 minutes of the attack.

"What passing-bells for these who die as cattle?
Only the monstrous anger of the guns.
Only the stuttering rifles' rapid rattle
Can patter out their hasty horisons.
     No mockeries now for them; no prayers nor bells;
Nor any voice of mourning save the choirs,
The shrill, demented choirs of wailing shells;
And bugles calling for them from sad shires.

What candles may be held to speed them all?
Not in the hands of boys, but in their eyes
Shall shine the holy glimmers of good-byes.
The pallor of girls' brows shall be their pall;
Their flowers the tenderness of patient minds,
And each slow dusk a drawing-down of blinds".

 

A British front line trench just off the Albert Road at La Boisselle.

This trench was only a matter of a few hundred yards from where John Camplin went 'over the top' on 1st July 1916. John would have regularly walked this part of the trench system and would have known it very well.    

 






A GENUINE GERMAN PICKLEHAUB & COVER (R109) actually worn on 1st July 1916 at La Boiselle.After literally years of searching we have just been fortunate to obtain a German Picklehaub (Baden) & it's ultra rare R109 numbered canvas cover. This original assembly was actually worn by a German soldier who fought at La Boiselle on 1st July 1916. The items were brought back to the UK in 1916 by a member of the 2nd Devonshire Regt who attacked between Ovillers and La Boiselle, losing 232 killed and 199 wounded, many of whom fell to German machine guns in what they called Mash Valley. The Troops in the German front line and opposing the Grimsby Chums were the R109 R110 & R111 from Baden.The R109 troops being positioned just to the right (South) of the newly formed Lochnager crater. As this was the main enemy position from where the initial machine gun fire emanated, It's certainly not outside the bounds of possibility that the man who wore this helmet may actually have killed my Great Uncle John.

 


THE FINAL LETTER FROM JOHN CAMPLIN to my GRANDMOTHER ( Millicent ) where she had invited him to her wedding

WRITTEN on the evening of 13th June 1916.

 ALMOST CERTAINLY AT "BECOURT WOOD"

where the Chums were based while working to bring  explosives to the mine.

+++++++++++++++++++++

(Sent, addressed to my GREAT GRANDAD GEORGE HENRY CAMPLIN)

( Foreman's Cottage, Temple Bruer, Sleaford, Lincolnshire.)

FRANCE 13th JUNE 1916

My DEAR SISTER.

JUST A FEW LINES HOPING THEY FIND YOU QUITE WELL AS THEY LEAVE ME QUITE WELL. I AM SORRY TO TELL YOU THAT CANNOT( BE) HOME FOR YOUR WEDDING.

i WISH i COULD HAVE GOT HOME FOR IT.  I KNOW I SHOULD HAVE GOT A GOOD FEED FOR I HAVE NOT HAD ONE FOR A GOOD MANY WEEKS. I HAVE BEEN OUT ALL DAY AND HAVE NOT HAD MUCH TO EAT AND WHEN I GOT BACK I HAD A HARD BISCUIT AND SOME MARMALADE, SO YOU KNOW I AM READY FOR A GOOD FEED.

WE CANNOT BUY ANYTHING WHERE WE ARE NOW THE PEOPLE HAVE ALL DONE A FLIT ....AND I SHOULD DO IF I HAD A CHANCE TO LEAVE IT BUT i EXPECT THAT I SHALL HAVE TO STOP TILL IT IS OVER NOW

I AM THINKING OF YOU AND THE DEAR OLD HOME ALWAYS. I WISH YOU COULD SEE ME.

JUST NOW IT HAS BEEN RAINING FOR DAYS NOW AND WE ARE UP TO THE NECK IN MUD AND I NOW THIS EVENING SIT BY MYSELF ON A BISCUIT TIN LISTENING TO THE BIG GUNS BEING FIRED BUT HAVE A GOOD PLACE TO LAY DOWN FOR THE NIGHT AND AM OUT OF THE WET.

WHEN I SEE A FRENCH GIRL I DO WISH THAT I WAS AS NEAR TO MY SISTER AS THIS BUT NEVER MIND I WISH TO COME BACK SAFE TO YOU.

I HAVE HAD A LETTER FROM MY TWO SISTERS THAT ARE MARRIED*. (*fLORENCE AND lYDIA)

REMEMBER ME TO ALL AT HOME.  i THINK THIS IS ALL THIS TIME WITH FONDEST LOVE TO YOU FROM YOUR ONLY BROTHER JACK ......WRITE SOON DEAR

XXXXX

fOR dAD XX

fOR mUM XXX

fOR lIDY XXX

Temple Bruer, Near Sleaford, Lincolnshire.    

( The family home of John Camplin and the Camplin family has been at Temple Bruer since at least 1273 when a William Camplin is seen in the Lincoln Court records making a land dispute application about land left him by his grandfather !)     

Temple Bruer is a farm-yard in the civil parish of Temple Bruer with Temple High Grange, England. It is one of the few Knights Templar sites left in England where any ruins remain standing. Its name comes from its Templar ownership and its position in the middle of the Lincoln Heath, bruyère in the language current at the time. It was founded in the period 1150 to 1160 and the Templar order was dissolved in 1312.

It is at grid reference TF09537, in Lincolnshire, England located between the A15 and A607 roads, north of Cranwell. The site has been excavated twice, once in Victorian times and again at the start of the 20th Century.

1107, PTE JOHN WILLIAM CAMPLIN, WAS THUS THE LAST HEIR OF THE IMMEDIATE MALE CAMPLIN FAMILY, AND WITH HIS DEATH ON THE SOMME ON 1ST JULY 1916 there ENDED AN HISTORIC LOCAL FAMILY LINE WHICH IS RECORDED AS HAVING LIVED IN LINCOLNSHIRE at Temple Bruer from at least the year 1273 and which almost certainly came to England during the period of the Norman conquest in 1066.

the name 'Camplin' means 'a weaver of camel hair' in the original French and it is thought that 'the camplins' were originally employed in the manufacture  of the fine and soft camel hair cloths which were used under the leather saddles of military horses. (*see the Bayuex Tapestry)

My own Great Grandfather, George Henry Camplin, who was John's father, was himself a shepard at Temple Bruer and he was still in the 1,000 year family tradition as farmer of long haired Lincolnshire sheep from which he spun and wove the wool from which he made the family living. 

I Hope you have enjoyed knowing more about our home page soldier, my Great Uncle, John William Camplin.

John Camplin at Brockelsby Camp in late 1914 wearing his 'temporary' Post Office Blue uniform which was supplied to the new recruits as the Army had run out of Kharki uniforms during the massive early WW1 enlistments.

John's Commemorative Death Plaque & Medal Pair. John also has a brass plaque in St Andrew's Church Asgarby which was his local church.

Alan