PRINCESS MARY BRASS BOX
(Christmas 1914)
In November 1914, an advertisement was placed in the national press inviting monetary contributions to a 'Sailors & Soldiers Christmas Fund' which had been created by Princess Mary, the seventeen year old daughter of King George V and Queen Mary. The purpose was to provide everyone wearing the King's uniform and serving overseas on Christmas Day 1914 with a 'gift from the nation'.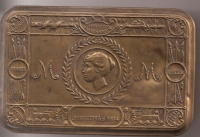 The response was truly overwhelming, and it was decided to spend the money on an embossed brass box, based on a design by Messrs Adshead and Ramsey. The contents varied considerably; officers and men on active service afloat or at the front received a box containing a combination of pipe, lighter, 1 oz of tobacco and twenty cigarettes in distinctive yellow monogrammed wrappers. Non-smokers and boys received a bullet pencil and a packet of sweets instead. Indian troops often got sweets and spices, and nurses were treated to chocolate. Many of these items were despatched separately from the tins themselves, as once the standard issue of tobacco and cigarettes was placed in the tin there was little room for much else apart from the greeting card
WE NORMALLY HAVE A SMALL STOCK OF THESE POPULAR  WORD WAR ONE BRASS BOXES AVAILABLE AND THE CONDITION OF THE CURRENT BOXES ARE ALL 'VERY NICE' & ' ALMOST MINT ' AND ARE HAND SELECTED BY US. NOW 100 YEARS OLD THEY ARE ALL LITTLE MIRACLE SURVIVORS ..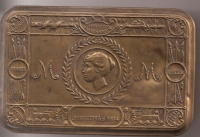 THE BOX IN THE PICTURE IS VERY REPRESENTATIVE.   
£75each
( NOTE : *We pay £35 each for these when buying for stock, nice ones only )
( *We now pay £150-£175 each if the Cigarettes, Cards and Tobacco etc are all intact & £225 if complete with the bullet pencil !)