ELIZABETH I SHILLING.
(2nd Issue)
Bust 1a,
(mint mark, Cross Crosslet)
1560-1561.
Nice VF
(RARE)
S.2555A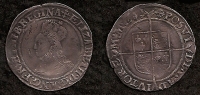 'click image to enlarge'
A notoriously rare and difficult coin to source. The early 1st & 2nd Issue Elizabeth I Coinage is normally well worn and damaged, so to find an example of a 1 or 2 piece in this grade is difficult enough, but to find this particular 'Bust1a' coin in VF is a seriously unusual event. They just never show up.
Slight area of mint 'pre-strike' reduction marking on shield.

PLEASING VF AND RARE WITH AN EXCELLENT PORTRAIT CLEARLY SHOWING THE 1a BUST VARIETY.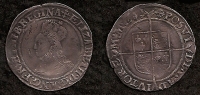 -SOLD-