A LARGE & HISTORICALLY IMPORTANT
"TWO BROTHERS" CASUALTY GROUPING.
of
TWO
1914-15 TRIOS
With
Many Many Papers and Photos

To:
11378. Pte. Arthur Chalmers. Wiltshire Regt and MGC (Trio)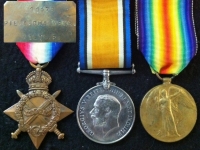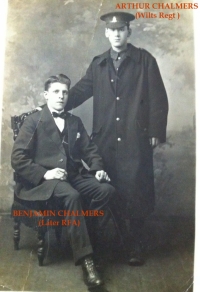 &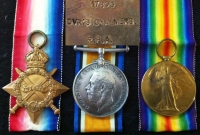 17805. Dvr. Benjamin Chalmers.
(25th Ammunition Column)
Royal Field Artillery
(Trio & Plaque)

DIED of DISEASE, 16th January 1917.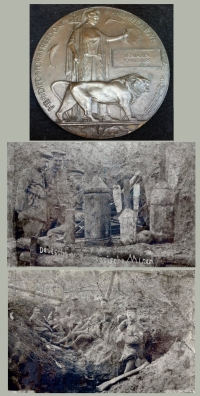 (Stomach Cancer and Exhaustion) at Farnborough Hospital (Aldershot).

Elder Brother Benjamin Chalmers had a very interesting period of service prior to WW1 as a steward in the Merchant Navy, based in London.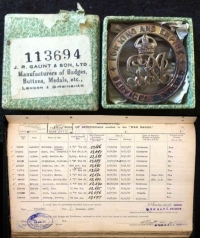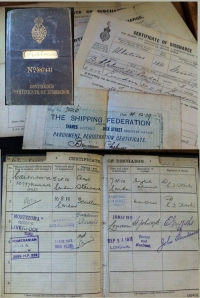 Contained here in his extensive paperwork is his Seaman's Service Record Book, service papers and Original (and copy) Newspaper cuttings relating to his serious injuries and burns sustained during the Infamous Explosion and Fire aboard the Famous SS CAIRNRONA the Cross-Atlantic Emmigrant Transport ship on 7th April 1910.
The CAIRNRONA had been preparing to leave on its Atlantic Voyage to Maine with almost 1,000 Polish and Eastern European Emmigrants and had just been coaled at London. Apparently the new coal had been placed on top of some glowing cinders which had got into the bottom of the coal storage bunkers from the stoking and boiler area. The ship sailed with signs of smoke rising from below decks and got as far as The Channel just off Dover where the subsequent heating of the coal produced a lethal mixture of coal gas which exploded with catastrophic results.
The womens' quarters were wrecked with many injuries sustained. Several members of the crew were badly hurt,when the crew quarters was also destroyed, including BENJAMIN CHALMERS, who was quite badly burned. The hatch tops on deck where many female steerage passengers were sitting blew off and fragmented with serious results including one small baby killed outright when it hit the iron decking. The explosion caused a great panic amongst the passengers which led to many men shamefully pushing women and children away in an attempt to reach the lifeboats. The crew fought with these men and a party of Royal Marines from a nearby ship came aboard to settle things down. The passengers were transfered to two other vessels and the CAIRNRONA returned to port for refitting and repair. Interestingly, just over a four months later on 8th August 1910 the ship again left (with Benjamin Chalmers again in the crew) for a voyage to Montreal from which it returned safely on 9th September 1910.
Benjamin also served on two more voyages to Nort America (Canada) on SS MONTEZUMA and SS POMERANIAN, both ships being later sunk by German Submarine Action during WW1, by UC-41 on 25th July 1917 off the Butt of Lewis and by UC-77, 12 miles off Portland Bill on 15th April 1918.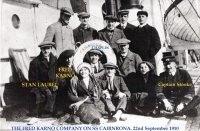 SS CAIRNRONA is also greatly and historically famous as the vessel in which non other than CHARLIE CHAPLIN and STAN LAUREL and FRED KARNO travelled on numerous occasions to North America as part of Fred Carno's Theatrical Company.
BENJAMIN'S ARMY SERVICE
Benjamin's time with 25th Ammunition Column R.F.A. contained service at VIMY RIDGE and BATTLE OF THE SOMME.
His time in France (from 19 July 1915) was cut short by a serious case of Tuberculosis with which he was repatriated by Hospital Ship in late 1916. We have some correspondence with his mother from the ship and from hospital in Farnborough (Aldershot) where he eventually died of stomach cancer and exhaustion on 16th Jan 1917.
We have his Silver War Badge (in its original numbered box), copy of the SWB roll, and both men's MIC's. Also a pair of original "Captured" WW1 Photos taken of off duty (smoking) Germans in the early trenches and with some various types of explosive mines and shells.
Also a German Full Sheet trench map of the Cambrai area.
We even have his death certificate and funeral expenses as part of this totally unique and importantly complete grouping.
A 'MUST HAVE' FOR THE SERIOUS SOCIAL COLLECTOR OR HISTORIAN.

£1250