An interesting
1914 Star & Bar Trio,
1st. Grenadier Guards.
(Severely Wounded, Probably at 1st Battle of Ypres)
Discharged.
To: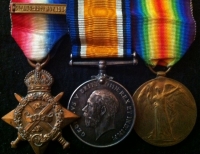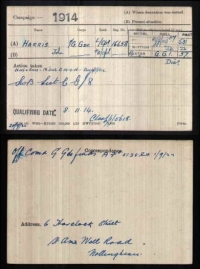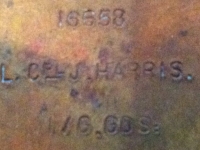 16658. L/Cpl. J HARRIS. 1/G.GDS.
Medals came direct from the family and apparently John Harris was severley wounded early in the war, brought home to England and discharged.
The initial members of the unit reached France on 7th October 1914, and Harris entered France on 8th November 1914 with the second wave of reinforcements who went straight to the front where he was almost certainly one of the very many casualties sustained at
The 1st Battle of Ypres, where of the 1st Battalion, only 4 Officers and 200 men out of the original strength of 1,007 survived the fighting.

He is also entitled to a Silver War Badge.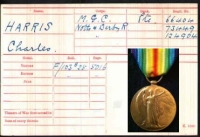 He lived at 6 Havelock Street, St Annes Well Road. Nottingham.

Also includes his brother (Charles Harris) Victory Medal;
To:
66404. Pte. C. Harris. MGC
73449. Notts & Derby Rgt
124904. Notts & Derby Rgt
An excellent research project for a Grenadier Guards enthusiast.
Includes both Brothers' MICs
EF & swing mounted as worn on original ribbons.
A wonderful trio to a much collected 'crack' line regiment.

£395