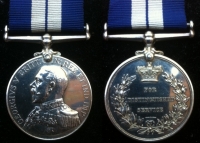 An Outstanding  
DISTINGUISHED SERVICE MEDAL (1917)
&
1914-15 Star Trio
&
Edward VII, Long Service Good Conduct Medal.
To a Chief Armourer in HMS ANGORA,
(An Auxiliary Minelayer, at GALLIPOLI)
& 
             HMS BLACK PRINCE.
To: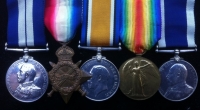 340066.
Chief Armourer A.J.HASEMORE. R.N.

A lovely and totally original DSM group of five to a Long Service sailor who served 25 years in the RN.
Albert John HASEMORE was born on 8th March 1873 in Birmingham and was a Filer by trade. He joined the R.N. as Armourer's crew at Pembroke ( Chatham) 2nd March 1894. He served in many ships during the late 1890's . He was advanced to Chief Armourer in HMS SAPPO on 11th October 1906. He is later seen in HMS BLACK PRINCE, where, on 16th March 1909 he received his Edward VII LSGC. 
  Probably assuming his service was about to end, along comes World War 1.  February 1914 sees him serving in HMS APOLLO and then in HMS ANGORA from 10th May 1915. 
The ANGORA was a passenger and cargo ship owned and operated by British India Steam Navigation Company and was taken over by the Admiralty as an Auxiliary Minelayer on 27th February 1915.  She was returned to the B.I.S.N.Co on 15th November 1919 having laid 14,729 mines. Many of these were in the GALLIPOLI area after the evacuation.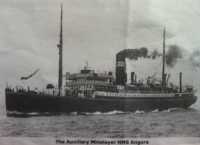 HMS ANGORA
 
Albert John HASEMORE was invalided out to pension 20th August 1919 with a serious eye condition which prevented him from focusing his eyes. He clearly never wore his medals which are, unusually for RN medals in practically Mint State on fresh original ribbons.
(He is also entitled to a Wounded Badge, No.43725) 
Comes with copy service records, ship picture and copy of London Gazette. 

An Excellent and Very High Grade Group
Worthy of inclusion in the finest collection.  
    
SOLD