INDIAN GENERAL SERVICE MEDAL
(North West Frontier 1937-39)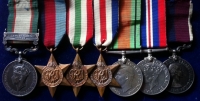 1939-45 Star, Italy Star, France & Germany Star, War & Defence Medals.
QEII L.S.G.C. (RAF)
To:
518018. Cpl. C. GIBBONS. R.A.F.
Act. W/O U.C. GIBBONS. (518018) R.A.F.
An excellent group to a pre-war entrant.
Totally unresearched, but a great number of these NCO's served on the Indian
(Vickers Valentia) Bomber Transport Squadrons.
This airman could well be one of these

A GREAT RESEARCH PROJECT.
£695