A very fine
DISTINGUISHED FLYING CROSS
(1943)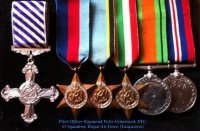 1939-45 Star, Aircrew Europe Star, Italy Star, Defence & War Medals
(Lancaster Pilot)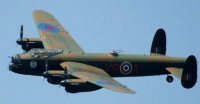 57 Squadron Royal Air Force
&
B.E.A. (Viscount 800) Captain.
To: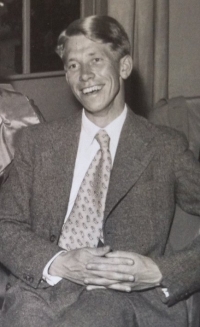 Pilot Officer Raymond Peter GRIMWOOD (143388) R.A.F.(VR) No. 57 Squadron.


Raymond Grimwood was from Cheshunt in Surrey and joined the RAF as an aircraftsman. He trained in the USA (as an LAC) with four other pilots at Tuscaloosa as part of the "Arnold Scheme" on class SE-42-E.
After graduation he joined 57 Squadron (RAF Scampton) as (1386250)Sergeant Pilot and flew his first raid to Turin on the night of 4/5th February 1943. His first aircraft was Lancaster I (W.4201) which was delivered to 57 Squadron in September 1942. Raymond GRIMWOOD took part in raids on some of the most heavily defended targets in occupied Europe and Germany, including: DUISBERG, FRANKFURT, KIEL, (City Centre and Docks) St. NAZAIRE (U-Boat Pens) ESSEN (Krups Arms Factory), BERLIN, WUPERTAL, DUSSELDORF, BOCHUM.
He was confirmed as Acting Pilot Officer on 3rd March 1943 and commissioned as Pilot Officer 12th May 1943 and posted to 17 OTU on 1st August 1943.
His DFC was announced in the LG on 17th August 1943 (page 3683).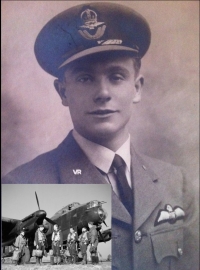 Here pictured is P/O Grimwood shortly after his commisioning in March 1943. Inset is a 57 Squadron crew shot of "T" for Tommy in March 1943 taken at RAF is Scampton. Raymond Peter Grimwood survived the war and later served as a senior Viscount 800 Captain for British European Airways (BEA) . He flew Viscounts, Vanguards and Tridents etc, on the company's routes all over Europe until his retirement in 1977.
He was a leading member of the Guild of Air Pilots and Navigators (presentation photos with HRH Duke of Edinburgh included) and was also also a member of the Royal Aeronautical Society. At the time of his retirement he had flown almost 20,000 hours in everything from Tiger Moths via Lancaster Bombers to Trident passenger jets.
He was one of Britains most experienced aviators.
THE MEDALS ARE NEW TO THE MARKET
Mrs Jean T. Grimwood show here in the early 1950's was a BEA Hostess and the widow of the late F/Lt Albert C. White D.F.C. of 142 Squadron, who was killed in a flying accident in a No.1 Ferry Unit Mosquito at Pershore, Worcs in 1947, and who's medals are also currently listed.
SOLD