An Ultra Rare,
NAVAL GENERAL SERVICE
( IRAQ 1919-1920 )
HMS TRIAD
1915 Trio,
Defence & War 1939-45,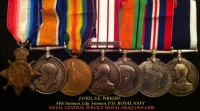 Long Service Good Conduct. (HMS GANGES)
   To:
J.11821. A.B.  S.E. WRIGHT ROYAL NAVY.

A very rare and almost never seen WW1 & LSGC group of seven containing the totally illusive,
'Naval General Service Medal with "IRAQ 1919-1920" clasp'.
Only 129 of these clasps were issued to the crews of river craft, tugs and tenders that took part in this early and infamous action in Iraq.
Only 44 medals to HMS TRIAD.
Includes copy service papers and confirming medal roll etc.

As is often the case with RN medals to old salts,this group of medals has been much polished by the proud recipient and has thus lost the fine detail.
 However, their is no actual damage at all and all the naming is totally OK.    

A VERY RARE OPPORTUNITY
If you collect the NGS series this is a MUST HAVE item which by default
will almost certainly be missing from your collection.
SOLD