A Superb & Important
HMS HERMES"
(Flagship)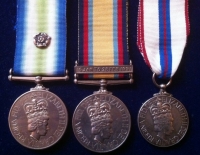 SOUTH ATLANTIC MEDAL (1982), with Rosette
GULF MEDAL
[16 JAN To 28 FEB] 1991,
&
1977 JUBILEE MEDAL  
To:
AMEM (L)1 P.C. HIGGS. D 171557 U HMS HERMES.
ALMEM (L) P.C. HIGGS. RN.
A superb trio to a man who served in HMS HERMES the Task Force flagship aircraft carrier of the Falklands War.
SOLD