QUEENS SOUTH AFRICA MEDAL
(Cape Colony)-(Orange Free State)
"Shaddow Dates"
&
St. John Ambulance Brigade Medal for South Africa,
Bronze.
(1902)
(INCLUDING CHRISTMAS 1900 'QUEEN'S CHOCOLATES' TIN)
To:
(Q.S.A.) 1218 SPLY OFFCR: T.A. SANKEY, St JOHN AMB: BDE.
&
(St. John Ambulance Brigade Medal For South Africa.
To:
1218. SERG. T.A. SANKEY. BLACKPOOL DIV,.
A very rare, highly unusual and seldom seen pair of medals.
(A St John Ambulance Man in Boer War Uniform)
Thomas Arthur Sankey was a resident of Victorian Blackpool and volunteered for 6 months service in South Africa when the call went out to recruit additional help in caring for the many sick troops and the wounded. This influx of trained medical help was an attempt to relieve the pressure on the men of the RAMC and thus allow them to be employed at the front line.
Sankey served as a Supervisor at No.9 General Hospital at BLOEMFONTEIN the capital of Cape Colony. Large numbers of men were being taken sick with Enteric Fever, Typhoid and Dysentery. These greatly outnumbered the wounded in all areas. Gunshot cases only numbered 300 for the entire war at this hospital. The hospital began started taking in wounded men on 20th April 1900 and many sick men lay in tents around the town.The hospital was comprised of a collection of large double fronted curtained marquees and held 6 to 8 beds per tent. It eventually accomodated 600 men. There were 50 St Johns Ambulance Men filling various roles at the hospital by spring 1900. Weekly admissions were running at 1400-1500 men and peaked at 1,743 in May !
A total of 60 St John's Men died of contracted illness and disease during the war.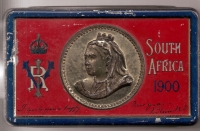 A RARE & HIGHLY DESIRABLE PAIR OF MEDALS WITH A LOVELY
ORIGINAL CHRISTMAS TIN.

BOTH MEDALS ARE PRACTICALLY MINT.
-SOLD-