R.A.F. FLYING GOGGLES (MkVII) .
Late 1940-1942

'MINT STATE' & TOTALLY STORES FRESH.
An incredible pair of the rarest quality you can imagine.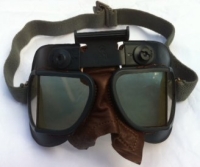 We would like to call these a "one off" but luckily some years ago we were able to buy TWO pairs of identical and totally mint Mk7's.
We are only selling ONE PAIR as the others are staying in our own collection because we know we will never better these.
Never seen any before or since this nice. Totally new and flawless in all respects.
What more can we say ?
We make no apology for the price as we feel that you will never see a pair of these in such extreme quality again.

£675