TOP PRICES PAID FOR ALL AUSTRALIAN COINS & BANKNOTES
We are THE major UK buyers of ALL Australian coins and banknotes.
If YOU have any Australian items, just call us today on:
01342-870926 or 07837-621144.
Or e-mail us on DRAGONBRIT@AOL.COM.
Be it an Australian Sovereign or a Silver or Copper co
in, or a banknote we will buy EVERYTHING Australian.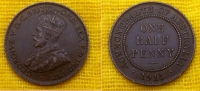 A super rare 1915 H Halpenny
( This is just one example of the type of coin we are looking for)

CALL US TODAY.