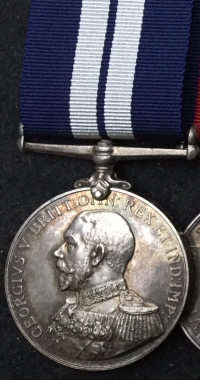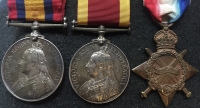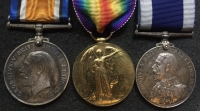 An Astonishing

"TORPEDO BOAT"

DISTINGUISHED SERVICE MEDAL

& VICTORIAN CAMPAIGN Assembly of Eight Medals to two Royal Navy Engine Room Artificers. A Group of Seven to:

Chief E.R.A.1st Class, J.J. Williams DSM H.M.S. TERRIBLE

& A single LSGC (Victoria) to

ERA J.H. HOBBS. H.M.S. ASIA

[THE MEDALS]

"All Officially Impressed" Distinguished Service Medal, GVR, [L.G. 23rd May 1917]

268990. J.J. Williams. C.E.R.A. 1Cl. H.M.T.B..87. Patrol Services. 1915-16

Queen's South Africa Medal:

J. J. Williams, E.R.A. H.M.S. Terrible.

China War Medal 1900:

J. J. Williams, E.R.A. 3Cl. H.M.S. Terrible.

1914-15 Star:

268990, J.J. Williams. C.E.R.A. 1. R.N.

1914-1920 British War and Victory Medals:

268990 J.J. Williams. C.E.R.A.1 R.N.

Royal Navy Long Service & Good Conduct Medal GVR:

268990 J.J. Williams, C.E.R.A.1Cl., H.M.S Superb.

[BIOGRAPHY]

1875- John James Williams was born on the 18th of November 1875 at Grove, Portland, Dorset. He joined the Royal Navy age 22 on the 17th of April 1897 for a 12 years engagement. He was a Fitter and Turner prior to enlistment. He served in H.M.S. Vernon from 28th October 1898 to the 29th of August 1899 and it was during these ten months that he befriended James Henry Hobbs who in 1924 left him his LSGC and his financial estate. Williams then re-engaged to complete 21 years' service on the 26th of April 1909. During the Boer War & China War he served in H.M.S. Terrible from the 7th of September 1899 to the 24th of October 1902, with a later posting to H.M. Motor Torpedo Boat 87 from the 20th of February 1915 to the 2nd of October 1916. Two years after its launch in 1889, the H.M.T.B. 87 was commanded by Lt William Fane De Salis who later become Admiral Sir William Fane De Salis. John Williams' DSM was awarded for his service in this ship. He was discharged to shore from H.M.S. Victory II having served on some 16 ships. Complete with copy Service Papers, The London Gazette entry for the award of the DSM, Queen's South Africa and China 1900 Medal Rolls. Also present are the 1914-1920 Medal rolls confirming 1914-15 Star, British War Medal & Victory Medal, with LSGC (GV) HMS Superb. All seven medals in this group are practically "Mint State" with a superb time developed and natural multi-colouring on the sliver, having clearly never been worn by the recipient. This is a very unusual situation, particularly with medals to Naval recipients. A Truly Glorious Group which has survived in absolutely pristine condition. &

A Victorian Royal Navy Long Service & Good Conduct Medal.

To:

Engine Room Artificer James Henry Hobbs, (Jas. Hy. Hobbs, E. R. Artr., H.M.S. Asia)

Officially impressed, lightly toned GVF/EF .

[BIOGRAPHY]

1856-1924. James Henry Hobbs was born in Landport, Hampshire on the 28th of August 1856 with an enlistment into the Royal Navy on the 7th of December 1880 aged 24 years. He served on 14 ships during his 21 years career and was pensioned to Shore on the 13th of December 1900. His last ship was H.M.S Vernon where he met John Williams (22nd of September 1897 to the 13th December 1900 – Service papers concur). James died on the 17th of January 1924 in Portsmouth leaving his LS&GC and most of his estate to Chief Engine Room Artificer 1st Class John James Williams.

BOTH ITEMS COME WITH COPY SERVICE PAPERS, CONFIRMING ROLLS & OTHER RESEARCH.

£2995.

With Part-Exchanges Welcome.