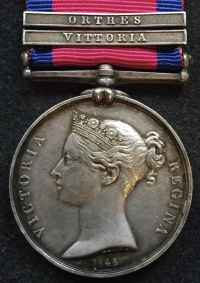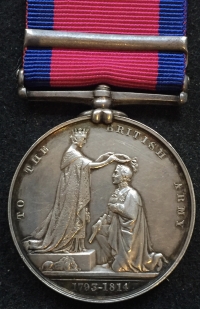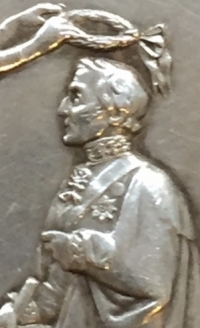 A SUPERB "CAVALRY" (Two Clasp) MILITARY GENERAL SERVICE MEDAL 1848

[VITTORIA] & [ORTHES]

To.

GEORGE HARWOOD 15th (Duke of Cumberland's) HUSSARS.

[BIOGRAPHY]

George Harwood was born in Ilminster, Somerset in 1780 and enlisted at Dorchester, Dorset on 3rd February 1801 age 21. He served with the colours for 20 years & 291 days being discharged during the "reduction of the standing army establishment" on 20th November 1821 aged 41. He is show as a Mason of 5ft 8", Red Hair, Grey Eyes & Fair Complexion. His conduct during service is recorded as "VERY GOOD" Early Cavalry Awards to the men of both The Peninsula War & Battle of Waterloo are always greatly sought after by serious collectors. This is a superlative medal in almost "Mint State" with all its original undisturbed multi colour tone and patina. A lovely crisp example. The medal comes complete with a colour copy of the service discharge papers which is in itself is an unusual situation where most M.G.S. papers have not survived. Copy medal rolls confirming the clasps are also included.

A TRULY LOVELY EXAMPLE OF A HIGHLY DESIRABLE CAVALRY M.G.S.

£1550 with part exchanges welcome.