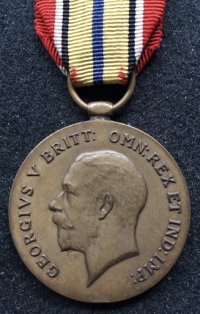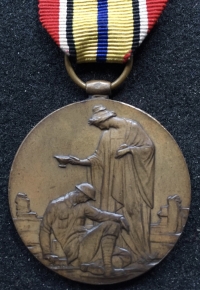 AN EXCESSIVELY RARE "ALLIED SUBJECTS' MEDAL (1920) BRONZE.

A greatly illusive, seriously rare and virtually unobtainable medal.

This greatly illusive, seriously rare and virtually unobtainable medal was awarded after The Great War in 1920-22 to mostly overseas recipients who had helped British Prisoners of War to escape from captivity.

Only 56 silver medals and just 247 in bronze were awarded of which almost half went to women. The very fact that they mostly went overseas to European recipients, frankly makes this medal a virtually impossible item to locate.

This is only the second such medal we've offered in almost 50 years and I've personally never even seen an example in silver. The famous & Valiant Nurse Edith Cavell was eventually posthumously awarded this medal after being shot at dawn on 12th October 1917 by the Germans for assisting over 200 of our troops to escape from occupied Belgium. Her magnificent statue stands just off Trafalgar Square in London just outside the side entrance to the National Gallery on Charing Cross Road. If you are into collecting seriously rare and desirable British medals, this is a "MUST HAVE" item for you and I'll pretty much guarantee you that you'll never see another example as long as you live.....in either metal. The book price is "way behind the times" at a silly £600 which is probably based on a sale which I think took place about 20 years ago. Our price for this totally original, uncleaned and magnificently rare & emotive medal, which is still on it's original ribbon is:

£1250. With part exchanges welcome.

[NOTE] If you ever see another one ....just buy it ....and if you've got another bronze one for sale we would be delighted to pay you £1000 for it, and if you happen to have a silver example for sale, just let us know on 01342-870926 ......Thanks.