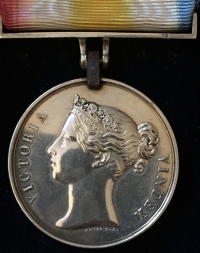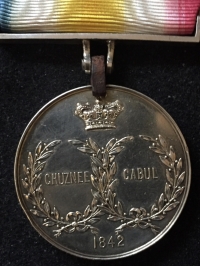 AN EXCEPTIONAL & VERY RARE CANDAHAR, GHUZNEE, CABUL MEDAL (1842)

GHUZNEE-CABUL REVERSE. (1st Afghan War) Practically Mint. To.

Gunner James Donnelly. 3rd Company, 1st Battalion, Bombay Foot Artillery.

The 3rd Company, 1st Battalion, Bombay Artillery, was present at the capture of Manora, near Karachi, in February 1840, Captain W. Brett in command. In January 1841, equipped as a Light Field Battery with six 9-pounders, four guns left Sukkur for Quetta, Captain C. Blood in command. Two guns, however, with Donnelly present, remained at Quetta when the other four guns marched to Candahar. These two guns rejoined at Candahar before Nott marched out to Cabul on 9 August, and took part in the action at Gohain, 29-30 August, the occupation of Ghuznee, 5-6 September, and actions at Beni Badam on the 14th and Maidan on the 15th of the same month. Nott's force reached Cabul on 17th September, two days after the arrival of Pollock's force. On 30th September, two guns under Lieutenant Terry took part in the burning of the village of Istalif. The whole force left Cabul for India on 12th October, Nott's force acting as rear-guard. On 6 November, Terry was mortally wounded at Ali Musjid, the final day of the campaign. The force reached Ferozepore on 17th December 1842. The medal is suspended from its original iron clip which hangs from a very unusual high quality long silver bar suspender conversion. (These are normally seen in steel). There were only 25 such medals issued to this small artillery unit and only a minuscule total of 360 to Europeans. Very few survive. The naming is in superbly executed "officially engraved running script" of the most magnificent style. "Gunner James Donnelly. 3rd Compy 1st Battn Bombay Foot Ary"

This is a medal of astounding quality in near mint condition with exceptional and near prooflike surfaces.

The few surviving & normally well used examples of this medal arrive in only basic F-VF condition at best and usually with edge bumps etc. This example is without doubt the very best example of its type we've ever had the privilege to offer.

A TOTALLY STUNNING MEDAL, A SHEER "ONE OFF" SURVIVOR, FIT FOR THE FINEST COLLECTION.

£1950 with part exchanges welcome.