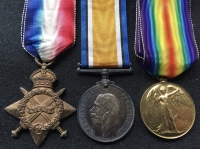 A VERY COMPREHENSIVE COLLECTION OF
(32)THIRTY+ 1914 Star & Bar & 1914-15 STAR TRIOS.
ALL TO GOOD INFANTRY LINE REGIMENTS & R.N. ALL IN TOP GRADE (VF+ to Near Mint) WITH ORIGINAL RIBBONS.
TAKE YOUR PICK AT £95 to £295
(ARMY)
(1914 STAR & BAR TRIOS)
(1) 9265. Pte William Wilson. R.A.M.C. "Wounded" & With Original Clasp & Silver War Badge. "MINT" £295 (2) 8938. Pte George Brown. 2/Notts & Derby. Original Clasp. EF
(SOLD)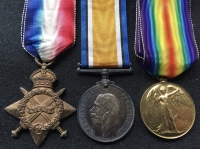 (1914-1915 TRIOS)
(a) 839. Pte Frederick Phillips. LANCASHIRE FUSILIERS. £110 (b) 2155. Pte William Henry Redfern. 8th LANCASHIRE FUSILIERS. £110 (c) 12835. L.Cpl George R. Leach. 1st LINCOLNSHIRE REGT & M.G.C. £165 (d) 22124. Pte Alfred J. West, GRENADIER GDS,
-(SOLD)-
(d/1)2795. Pte Herbert W. West. 22nd LONDONS,
-(SOLD)-
with papers & box. Entitled to SWB
"Possibly related to man above.
(e) 9875. Pte John R. Freeman. ROYAL WARWICK REGT. £115 (f) 4571. Pte James Rogan. ROYAL LANCASHIRE REGT.
-(SOLD)-
(g) 13146. Pte Thomas Collins. 8th YORKSHIRE REGT £110 (h) 8611. Pte Herbert A Goldfinch. MIDDLESEX REGT. £110 (i) 11413. Sgt Arthur Cobin /Coben. 3rd ROYAL FUSILIERS. £110 (j) 2638. Pte Robert Scott. ESSEX REGT. (Balkans). £110 (k) 7058. Pte Frank Clarke. 10th WORCESTER REGT. £120 (l) 16256. Pte George Thompson. DUKE OF CORNWALL L.I. £150 (m) 1260. Pte Alexander Mc Gregor. 1/6th ROYAL HIGHLANDERS. £125 (n) 19951. Pte Richard Ralphson. LOYAL NORTH LANCS. £110 (m) 12948 Pte Albert Keen. GRENADIER GUARDS.
-(SOLD)-
(n) 20263 Pte Sydney Swain. BORDER REGT. £125 (o) 3395 Pte John L. Thornton. LIVERPOOL REGT (& RFC) £125 (p). 7959. Pte J. Baker. SUFFOLK REGT. £125 (q). 1650. Pte E.M. Abram. 20th LONDON REGT
-(SOLD)-
(r). 280559.Pte G.H. Warren. 11th LONDON REGT £125 (s). 3138. Pte R. Bishop. 1st LONDON REGT. £125 (t) 11980. Pte M. Rawlinson. EAST YORKS REGT.£110 (u) G-2665. Pte B.H. Cooney. THE QUEEN'S REGT £120 (v). 13013 Pte C. Billington. LEICESTER REGT. £110 (w) 8-14769 Pte Joseph West. NOTHUMBERLAND FUSILIERS.£115 (x) 4481. Pte J. Mathews. NORTH STAFFORDSHIRE REGT. £110 (y) 88857 A/Bombr F.H. Harris. R.F.A. (Ent, to SWB RA/3072) £99
(NAVY) ....All priced at £95 per trio.
(a) K.23333. Albert Sydney Fisher. Stoker 1st Class. R.N. (HMS BLENHEIM) (b) K. 9886 F.A. Smith. Stoker 1st Class. R.N. (c) T.S. 1188. W. Heenan. TR. R.N.R. (d) F. Dowsing. SIGNALLER, M.F.A. (e). E.S. 1003. P. Hall. ENGN. R.N.R. (From Lincoln) (f) 235548. A.J. Hill. L.S. R.N. Call us with your selection on 01342-870926 or email on dragonbrit77@gmail.com