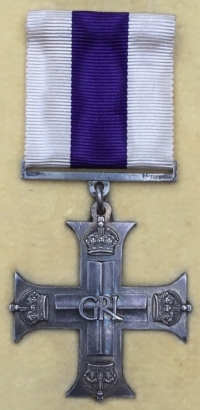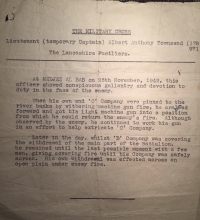 A Superb World War Two 8th ARMY (DESERT RATS) "Tunisian Desert" Medjez El Bab, 25th November 1942 'D' Company Commander's

(CASUALTY)

MILITARY CROSS GROUP OF SIX

To:

Captain Albert Anthony Townsend. 2/6th Battalion, Lancashire Fusiliers.

KILLED IN ACTION 26th February 1943.

[INTRODUCTION]

Albert Anthony Townsend joined the army as a Private and climbed through the ranks via the position of RSM & WO2 & WO1 in the 2nd Battalion. When on 25th November 1942, he and his company and another company were pinned down by withering machine-gun fire on the banks of the River Medjerda, he personally crawled forward with a light machine gun and covered the withdrawal. He was later killed in action on 26th February 1943. Military Cross, GVI 1st type, reverse dated 1943 1939-1945 Star Africa Star (8th Army Clasp) Defence Medal War Medal Long Service & Good Conduct Medal, GVI 1st Type, Officially Impressed ( 3436177 C. Sjt. T.A. Townsend. Lan Fus.)

Military Cross. London Gazette, 23rd September 1943.

"At Medjez El Bab on 25th November 1942, this officer showed conspicuous gallantry and devotion to duty in the face of the enemy. When his own and 'C' Company were pinned down to the river banks by withering machine-gun fire, he crawled forward and got his light machine-gun into a position from which he could return the enemy's fire. Although observed by the enemy, he continued to work his gun in an effort to help extricate 'C' Company. Later in the day, whilst 'D' Company was covering the withdrawal of the main part of the Battalion, he remained until the last possible moment with a few men, giving covering fire until his company was safely across. His own withdrawal was effected across an open plain under enemy fire".

[BIOGRAPHY]

Albert Anthony Townsend was born on 29th December 1902 in Manchester, and having been educated in army schools, then enlisted into the British Army on 17th June 1919, joining as a Private (No.3436177) into the Lancashire Fusiliers. He was posted to the 2nd Battalion, and shipped out to India from 11th December 1920. He was appointed to Acting Lance Corporal on 6th December 1922 and then promoted to Corporal on 1st April 1925, before opting to extend his service to complete 12 years with the Colours on 30th July 1925. Townsend was appointed to Lance Sergeant on 19th September 1928, promoted to Sergeant on 22nd March 1930, and was then posted home to the Depot on 12th November 1931. With the outbreak of disturbances in China as a result of Japanese aggression, Townsend found himself posted to the 1st Battalion on 9th January 1934 and having been appointed to Sergeant Instructor of Musketry on 13th May 1935, was then posted out to China from 12th December 1935. Townsend then relinquished his position as the Instructor of Musketry on 1st November 1936 and was posted home to the Depot on 29th December 1936, being then promoted to Colour Sergeant on 15th April 1937. He held the position of Company Quartermaster Sergeant at the Depot, being awarded his Regular Army Long Service and Good Conduct Medal in Army Orders for October 1937. Townsend was then promoted to Warrant Officer 2nd Class and Company Sergeant Major on 20th April 1938, being then posted on the same date to the 2nd Battalion, and was serving at home on the outbreak of the Second World War. He was then posted to the 50th Holding Battalion as WO2 2nd and CSM on 5th June 1940, and was then appointed WO1 and RSM on 15th June 1940 and posted in this position to the 1/8th Battalion, Lancashire Fusiliers on 16th June 1940 before being confirmed in this rank on 15th September 1940. Having been put forward for a commission it was granted him on 24th March 1941 as 2nd Lieutenant No.17897. He had at the time of his promotion served for 21 years and 282 days in the ranks. Townsend was posted out to the Middle East from 18th October 1941 when he re-joined the 2nd Battalion, Lancashire Fusiliers which was then serving as part of the 8th Army in the Western Desert. He then joined the 2/6th Battalion, Lancashire Fusiliers on 26th November 1941, and was appointed to Acting Captain on 14th March 1942, and promoted to Temporary Captain on 14th July 1942. Townsend found himself appointed to command 'D' Company, and it was for his gallantry in action at Medjez El Bab on 25th November 1942 that resulted in the award of his Military Cross in the London Gazette for 23rd September 1943.

[THE REGIMENTAL HISTORY]

The regimental history gives the following details concerning this action: 'Medjez El Bab means 'gateway', and the little town of this name, lying on both sides of the broad and muddy River Medjerda, is, in fact, the gateway to Tunis from the west. The Germans, appreciating its significance, held the right bank of the river with three parachute battalions backed by supporting arms. It was here that the 2nd Battalion fought their first fight when, in company with the Northampton's, they tried to seize the bridge. It was a tough introduction to battle. Their approach to Medjez-el-Bab was slowed down by flanking machine gun fire; the Commanding Officer, Lieutenant-Colonel L.A. Manly, was killed as he went forward to reconnoitre, and Major Linden Kelly took command. It was already daylight when 'A' and 'B' Companies crossed the swirling yellow waters of the river, holding their rifles high above their heads. They were immediately assailed by mortar, machine gun and artillery fire, which prevented them from leaving the river banks. Four times they tried to press home their attack on the east bank, and four times they were beaten back; one platoon was almost entirely wiped out in the river bed. Now 'C' and 'D' Companies tried another direction, but they too were subjected to heavy artillery fire, and Major Kelly decided to withdraw to the west bank to reorganise. This might have been a costly operation also, but for a concentration of supporting artillery fire that silenced the German guns. 'C' Company extricated itself without difficulty, but 'D' Company was almost caught by a German counter-attack with tanks that had already driven back the Northampton's. Shortly after this, the enemy blew up the bridge; mortifying as this was, it was an indication that the Germans had had enough, and were concerned to cover their retreat. When the East Surreys attacked next day, they found Medjez-el-Bab abandoned. The determination of the two attacking battalions had evidently made an impression. The cost was not light: as well as the Commanding Officer, the Battalion had 36 of all ranks killed, 47 wounded and 60 missing. Captain A. A. Townsend and Captain Barker-Benfield were both awarded a Military Cross. Tragically, however, before the announcement of his M.C. had been announced in the London Gazette, Townsend was Killed in Action on 26th February 1943, aged 41 years. Albert Anthony Townsend was the husband of Mary Agnes Townsend of Rochdale, Lancashire. With the Original Hand Typed Citation Document. All medals are mint with original mint ribbons.A Truly Exceptional Casualty M.C. with an outstanding Battle Citation to a man who rose through the ranks to achieve a commission in one of the finest regiments in the British Army. £4995 with part exchanges welcome.