MAGNIFICENT & ULTRA RARE LUFTWAFFE OFFICER'S LEATHER, FLYING/TOP COAT.
 Stamped in black, With Eagle & Swastica & 1940
on the inside of the inner left breast pocket lining.
A Classic Luftwaffe 'Battle of Britain' period item of the highest quality and rarity.

This jacket is a true and totally original gem with almost no wear, save a tiny amount of natural wrist friction around the sleeve bottoms and one or two very minor grazes here and there. All the buttons except one single sleeve strap button are present and correct.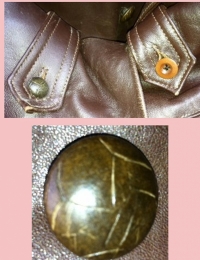 I bet the original owner wore it about 10 times during the winter of 1940, left it at home or in the crew room, got chopped, and sadly never wore it again. The leather quality is just as the day it was made with full unfaded original deep brown colour. The quilted brown interior is totally mint as are the inner sleeves bar one area in the lower left sleeve which is discoloured around the interior wrist elastic. The natural 'removable' fur collar is just mint and amazing and again it's in totally perfect condition. A miracle of survival over 71 years. All the materials are 100% natural and there is not one single  synthetic thread anywhere in the item.
  Someone in Germany really looked after this lovely coat item until it was bought to England back in 2001.       
Somewhere in my collection (I will find it) is a picture of non other than Werner Molders wearing an identical jacket while standing for photgraphs on the wing of his Me109 ! 

To see and consider the genetic 'evolution' of the design of this jacket you only have to look at the many famous photographs of Baron Manfred Von Richthofen who is nearly always shown in a very similar removeable fur collared jacket with slash and map pockets and a leather tie belt. I would even imagine looking at the very very similar design that the company which made The Red Baron and the WWI German Air Service jackets also made this type for the WWII Luftwaffe.     

These must have been in great civilian demand after the war as a warm coat was a rare item in the immediate and austere post war Germany and Europe. And much sought by the crews during the war. I've only ever seen two others (in museums) many many years apart (over 37 years) and both were in very poor condition having been worn to death.
I've never seen another one at a UK Military Fair at any time in over 30 years.    
 I WILL GUARANTEE THAT YOU WILL NEVER SEE A BETTER EXAMPLE.
SOLD