LUFTWAFFE OFFICER'S VISOR CAP
(Circa 1940).

A very nice and totally original Luftwaffe Offier's visor cap from
The Battle of Britain period.
The cap was bought in the USA some years ago from the son of the US Army Air officer who liberated it in 1945.

(NOTE: We are also about to list a set of quite superb practically "MINT" "Memphis Bell" "B17" type WW2, 8th Army Air Force Flying Kit that came to us from the same source in the USA) This set will be listed later this week or early next and comprises, Leather head set, fully wired and night Goggles (two pairs, one boxed) oxygen mask (boxed), Navigators/Pilots leather zip Nav folder and instuments.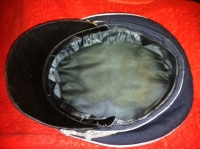 It has had its sweat band removed at some time (probably during the final days of the war to prevent the owner's name and I.D. being read). This is a common situation. The visor peak has the normal dryness and crazing but it's 100% intact with no splits or tears.
A lovely cap with only one or two minor "moths" under the rear rim area which are not visible while on display. One of the attachment legs has broken off the aluminium eagle peak badge but it's firmly held by the other leg.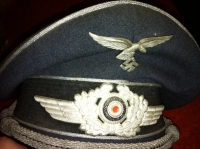 £845
(Rare and seldom seen)
( NOTE: We will swop & undertake part-ex deals with all our militaria either for other good items or for Medals of all types.
We are particularly interested in Royal Flying Corps and RAF items. So, if you see something you like just give us a call or drop us an e-mail)
or
01342-870926