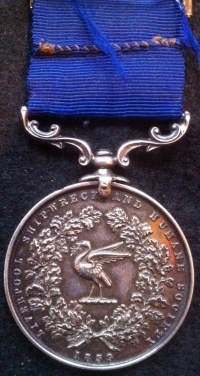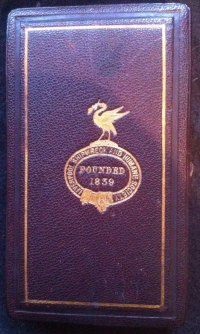 AN HISTORIC & MOST IMPORTANT ' LIVERPOOL SHIPWRECK & HUMAN SOCIETY's SILVER MEDALTo:
CAPt JAMES PRICE. SS "ARIZONA" FOR RESCUING FIVE AMERICAN PILOTS FROM BEING DROWNED OFF NEW YORK FEB 2/80.

THE RESCUEThe Liverpool Shipwreck & Humane Society's 41st Annual Report fide the year ended 1st July 1880 (pp9 & 10) records this award:
A Silver Medal to Captain James Price, steamship 'Arizona', for having skilfully rescued five American pilots,off New York, on 2nd March 1880. A strong wind was blowing,with a heavy sea. The steamer had stopped to receive a pilot from the pilot schooner but before the boat could get alongside she capsized,and her crew of six men,picked up one of the pilots,the other having been rescued by a boat manned by three men from the pilot schooner. The steamer's boat had scarcely been hoisted up when the pilot schooner's second boat capsized and the four men in her were left struggling for life. The steamer's boat was again lowered, and the same crew jumped in and proceeded to save the men in the water, but at this juncture Captain Price backed the 'Arizona' towards the drowning men and rescued them all with ropes thrown from the steamer.A Silver Medal was also voted to Mr James Arnold, chief officer of the 'Arizona' , and £1 each to the six men who accompanied him in this hazardous service.
A magnificent piece in EF+ condition with its original silver triple claw buckle and housed in it's original leather crested & velvet centrally hinged obverse & reverse duel sided display case.

A MEDAL OF IMMENSE INTERNATIONAL & UNITED STATES MARITIME INTEREST. BOUND FOR THE FINEST COLLETION OF LIFE SAVING GALLANTRY AWARDS

£995 With part-exchanges welcome.